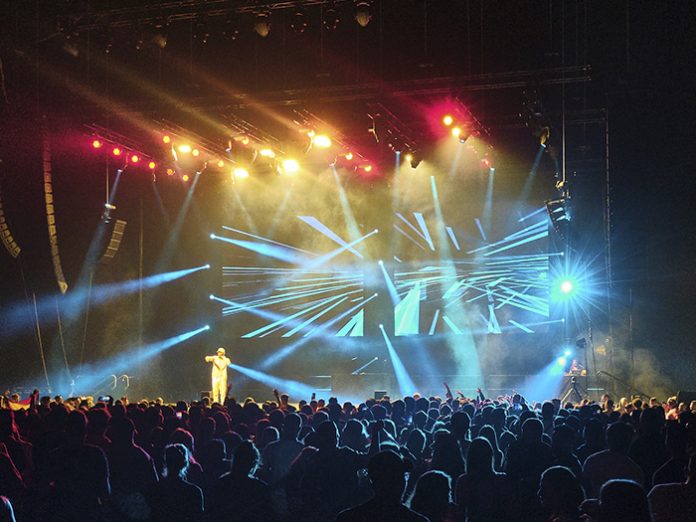 They are the stars of the Latin American music scene. Their videos and songs generate millions of views on Youtube and streams across all platforms. The stars of the Reggaeton scene inspire millions of fans in America. And Reggaeton has long since arrived in the mainstream. This was again shown at the Los Favoritos Festival in Mannheim's (Germany) SAP Arena, which brought the stars of the scene to the stage. With headliners Bad Bunny, Arcangel or Lucenzo, some of the hottest members of the Reggaeton frenzy met on stage to perform in front of enthusiastic fans. The fans getting very close to their stars was one highlight, and also the sound left nothing to be desired – thanks to the audio technology of RCF.
As an overall technical service provider, concert organisers trusted in the skills of event company Colito – already a convinced RCF user for years. At the event, Colito was responsible for the complete audio, lighting and video equipment. For the concert in the SAP Arena, filled with over 5,000 visitors, Colito fully relied on active systems from RCF. Several components of the active 3-way line array HDL 50-A and 2-way line array HDL 30-A, as well as active subs from RCF, were used.
"As is so often the case, the schedule was extremely tight. We had only eight hours for rigging, installing, calibrating and tuning the PA system," said Colito Managing Director Michael Meister. Once again, the simple handling and control of the RCF systems with the RDNet software have proven their value. All components are really from the same mould and work together perfectly."
To provide the SAP Arena with sufficient sound, 2x 16 HDL 50-A modules were installed hanging as main PA during the event. In addition, there were 2x 12 HDL 30-A as out fill (hanging) and 2x 6 HDL 30-A as stage side fill (hanging, for monitoring). The low frequencies were provided by a series of 24x RCF Sub 9007-AS, which were placed in two stacks (cardioid) in front of the stage. The near fill comprised of 4x RCF TT 22-A modules put on the stage.
More information about the Los Favoritos event in the SAP Arena can be found on Youtube: https://youtu.be/bumLvI-Po7M