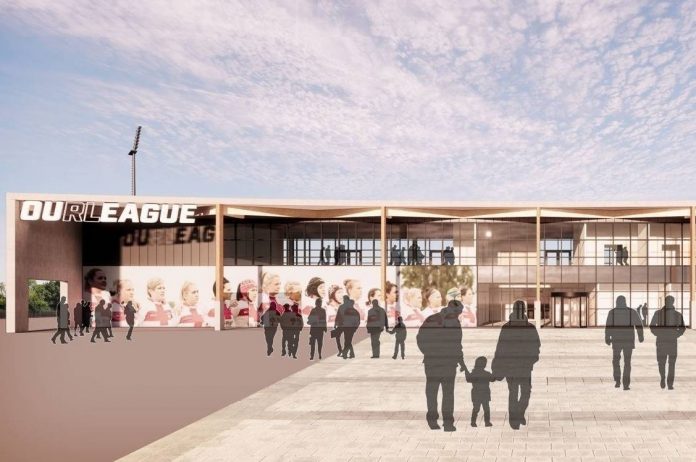 The Rugby Football League (RFL) has applied to Manchester City Council for planning permission to create a new skills, education and training facility in the Beswick area of the city.
Land off Grey Mare Lane is the proposed site for a unique facility to be shared between Rugby League's elite athletes, community players, coaches and match officials, and young people and adults from the local area.
There are plans for a two-storey building alongside the existing grass pitch, plus a small pitch-facing stand attached to the main building which would serve as an education and training base for people to begin developing their 'big match' skills.
RFL project lead, Tony Sutton, explains: "For 125 years Rugby League has brought a huge range of social and economic benefits to communities in the north of England and beyond. It is a sport with a massive positive social impact – and now we want to make an impact in east Manchester.
"OuRLeague Life is an exciting concept which we hope will become a local focal point for adult education, training and skills, and a catalyst for driving up social mobility through sport. As well as offering a new facility for people in east Manchester, this will be a key educational facility for all the England Rugby League squads such as our Men's, Wheelchair and Women's teams.
"Our plans were warmly received by the vast majority of local residents who attended our recent consultation event at Beswick Library, and feedback has been positive from other stakeholders in the city such as those people involved in education and skills provision.
The RFL is working in partnership with architectural practice Holmes Miller on the Beswick project, which will be the first and primary OuRLeague Life facility. It will also support Manchester City Council's 'Green and Blue' infrastructure strategy by creating well-designed and accessible outdoor space at the heart of the local community.
Ryan Holmes, Director at Holmes Miller adds: "The plans submitted detail a sports facility achieving something distinctly different than the status quo. By having elite athletes walking the halls and using the shared facilities alongside the aspiring local young people, the new centre will provide a lot more than simply being a place to train.
"Community and supporting development is core to the design focus of this building. Building on Manchester City Council's Green and Blue Infrastructure Strategy, we want visitors to interact with each other and the space in a way that promotes cohesion and a collective focus on the positive benefits of outdoors space and sports – as championed by the Rugby Football League."
The OuRLeague Life facility will be open on weekdays for education and training and at the weekends for community sport. Events will be planned to ensure that there will be no clash with events at the Etihad Stadium or the Co-op Arena, or with any large events held across the Etihad Campus more widely.
The RFL is currently based at Salford Quays and will relocate its national HQ to the nearby Etihad Campus in 2022.