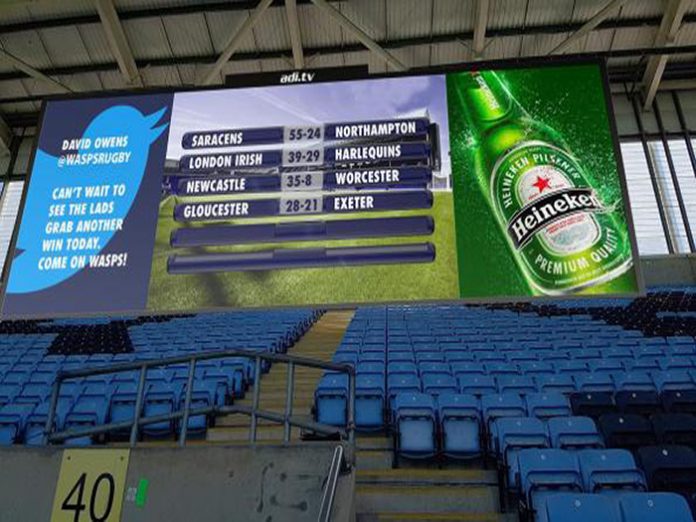 Installation of one of the largest LED screens in UK sport is underway at the Ricoh Arena as Coventry-based rugby club, Wasps, embark on a significant investment in new technology ahead of next season.
At 188 square metres, the new screen, planned for the South Stand, will be installed by leading stadium technology provider, ADI. The screen will be larger than those at leading stadia such as Twickenham and Hampden Park and, with a 10mm pixel pitch, it will also be one of the highest resolution stadium screens anywhere in the country.
The new screen will greatly enhance the match day experience at the Ricoh Arena. Its super-wide format offers huge flexibility to display lots of different content simultaneously.
Crystal clear replays can be delivered alongside match information to help new fans understand the rules of the game, together with social media feeds and other interactive fan content.
Stuart Cain, Commercial Director for Wasps and the Ricoh Arena, said: "We've responded to fans requesting better quality screens by installing one of the largest state-of-the-art pieces of technology in UK sport.
"This will massively improve people's experience when watching Wasps. We've also invested in the main atrium which will improve the experience for the 700,000 people visiting conferences and exhibitions at the Ricoh Arena every year."
Geraint Williams, CEO of ADI, whose company will deliver the LED technology, said: "Wasps are really pushing the boundaries to create something special for their fans. We're delighted to be a part of that."
This investment in new digital technology follows the installation of high density Wi-Fi at the Ricoh Arena, allowing up to 20,000 people to log on at the same time, another major first for UK sport.
Stuart added: "When you add up the new screens, app, high-density Wi-Fi, contactless technology, new ticketing and retail websites then it makes Wasps and the Ricoh Arena one of the most digitally connected venues in the UK if not Europe."
Planning and installation of the new screen is currently underway and subject to any issues with fabrication of the framework, the plan is to have the screens operational for the start of the season, but it may be the Leicester Tigers fixture on 16 September when everything is fully operational.