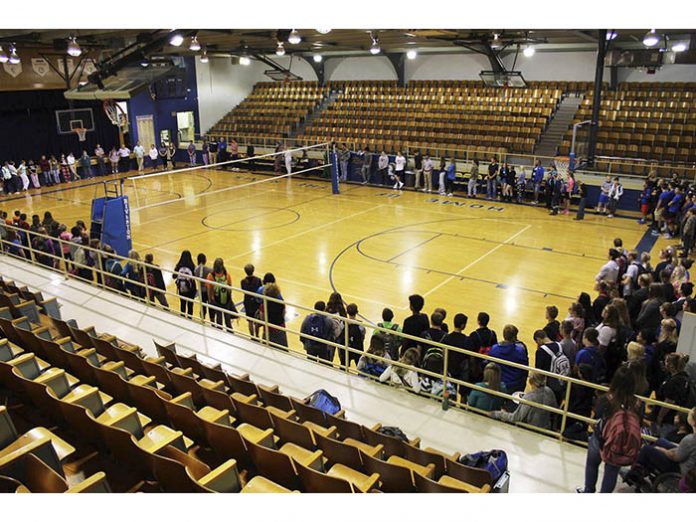 Riverton is a small, unincorporated farming and bedroom community tucked into the southeast corner of Kansas, within commuting distance of Joplin, Missouri and other larger cities. Riverton Unified School District draws students from a large area, and many of those students compete on the Riverton Rams basketball, wrestling, volleyball, and gymnastics teams. In support of those teams, Riverton High School recently completed a new, state-of-the-art gymnasium with more extensive seating. The school district hired Joplin-based A/V integration firm Total Electronics Contracting (TEC) to design and install a high-impact sound reinforcement system for the new gymnasium. Nate Pugh, TEC audio/video project manager, turned to Ashly Audio for reliable, affordable, and easy-to-use amplifiers, DSP, and wall-mounted user interfaces.
The new gymnasium has permanent balcony seating, plus rollaway bleachers on either side of the court. In addition, overflow audio addresses folks who are in the foyer just outside the gymnasium. "The Riverton staff wanted a system that could flexibly accommodate all of the various uses they plan for the gymnasium, but they also wanted a system that would be intuitive and easy to operate for non-technical staff," explained Nate. "Using Ashly Audio's well-integrated DSP and customisable user-interface technology allowed us to give the staff various 'scenes' for different event types that turned on appropriate inputs and loudspeakers. For example, when they use the gymnasium floor for events with live mics, they can select a scene that mutes the down-firing speakers to avoid feedback issues."
An Ashly ne24.24M Protea™ Digital Matrix Processor serves as the system's central hub. Nate configured its modular I/O for twelve inputs and eight outputs. Inputs include various wired and wireless microphones, an Allen & Heath WZ4.16.2 console, and computer, auxiliary, and XLR jack inputs. The ne24.24M's outputs feed three 2-channel Ashly KLR-3200 amplifiers rated at 1,600W per channel and two 2-channel 1,000W Ashly KLR-2000 amplifiers, which in turn power eight Community V2-1296w loudspeakers for main coverage, eight Community R.15 coaxial loudspeakers for downfills, four Community IS6-112 subwoofers, two Community stage monitors, and two JBL wide-coverage loudspeakers for the foyer.
Riverton staff control the system from three well-placed Ashly neWR-5 programmable network wall-mounted remote controls. TEC custom programmed the neWR-5s to allow for "scene" changes, as well as strategic input volumes and overall output volume. "Ashly was a great choice for several reasons," Nate said. "Ashly user controls are exactly what Riverton needed: simple with limited access to get what they need and nothing else. Moreover, all of Ashly's gear is reasonably priced and tremendously reliable. And since we use Ashly for plenty of our installations, we can offer great support."
About Ashly Audio
Ashly Audio Inc. is recognised as a world leader in the design and manufacturing of high-quality & high-performance signal processing equipment and power amplification for use in the commercial sound contracting and professional audio markets. The 42-year-old company is headquartered in Webster, New York U.S.A.
For more information please visit www.ashly.com.