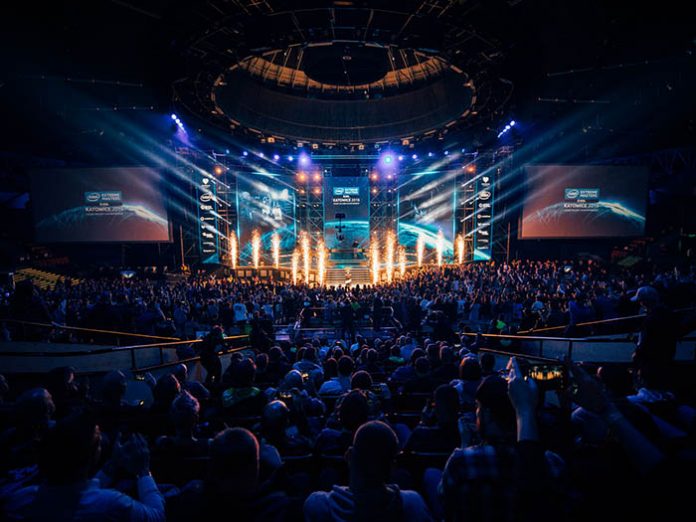 With eSports being the current driving force in the entertainment and sports sector there is an ever-increasing demand for bigger spectacle and better viewer experience at eSports events, live on site, on TV or via streaming.
From 22 February to 3 March the ESL One Dota 2 eSports tournament and Intel Extreme Masters stopped in Katowice, Poland. Around 18,000 visitors followed the battles live in the Spodek Arena and several million via Internet stream. The perfect stage for Robycam Germany's cable camera system.
On the impressive main stage, 12 teams fought for the title of Dota two champion in Katowice. With elaborate pyrotechnics and massive light shows, the Katowice event does not lag any other international live concert or show. Team Secret was the winner of the final.
Robycam Germany used the biggest Robycam system during the event in the Spodek Arena. Rigging points for the winches were placed to the right and left of the stage, and on the tiers, therefore the Robycam could fly over the entire stage and auditorium. The Robycam Germany team used a Grass Valley LDX 86 N Compact camera because of the primary exploitation of the event via internet streaming. All video signals were produced
throughout the entire production chain in 59.94p and also played out on the screens in the arena.
The gyro-stabilised camera head makes 3D camera movements possible. Together with a powerful control system, movements in all three axes are possible: pan, tilt, roll. All three axes are stabilised, i.e. there is also an 'Auto-Horizon' function, stabilising the image during wind or swinging movements.
The Robycam system uses four real-time controlled automatic winches and a sophisticated motion control system that allows for millimetre accurate and fast camera movements – up to eight m/s in all axes are possible. The largest system has an operating radius of more than 250 m x 250 m and the system works fully redundant (UPS units on each computer). All systems comply with the German safety standard DGUV 17/18
(formerly BGV-C1) and meet all other important national safety requirements. Defining areas in which the system can fly and those that are blocked is a particular feature of the system that enables use in environments with 'blocked' spaces. Even in the event of operating errors, absolute safety is guaranteed for
fixed installed obstructions or persons.