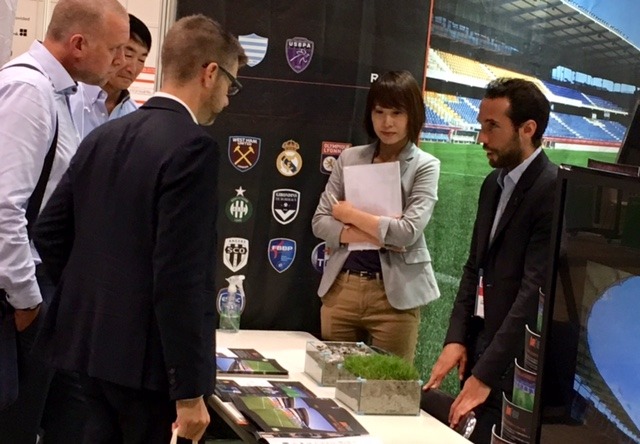 The Stadia & Arena Asia Pacific 2017 conference and exhibition held last week in Chiba City, Japan, brought sports venue professionals together to discuss the latest trends in stadia and arena design, build and operation.
Hundreds of delegates flocked to the Makuhari Messe exhibition and conference centre to hear presentations and roundtables on subjects ranging from security and fan engagement to games legacy and pitch preparation and maintenance. More than 50 exhibitors, displaying seating, lighting, roofing and turf products among many others, welcomed visitors to their stands. The sports venue business is a growth industry in Japan, which is set to host the Rugby World Cup in 2019, the Olympic and Paralympic Games in 2020 and the Asian Games in 2026. The country plans to build 20 new stadia and arenas by 2025.
It was not only Japan in focus, however, as representatives from Jakabaring Sports City in Indonesia were on hand to highlight their facilities ahead of next year's Asian Games in the country.
The governor of South Sumatra, Alex Noerdin, described how the sports city has been designed with a main 35,000 seat stadium, world class rowing and shooting facilities. The venue also boasts a retractable roof arena which can host tennis and basketball. A prestigious Moto GP circuit is also set to be built at the sports city.
Giving the closing keynote speech, Ben Fletcher, Director of Communication, Marketing and Strategy for the London Legacy Development Corporation, told delegates how important it is to build legacy into venues from the outset. The self-confessed 'Olympics addict' said,
"We want to build legacy in, not build it on afterwards. The important thing is to build the legacy part first and then create the venues needed for the Olympics. We brought the 2012 Games to a part of London that really needed development." He encouraged Tokyo 2012 to follow suit.
Earlier in the week at the opening ceremony for the event, Daichi Suzuki, former Olympic gold medallist swimming champion and now Commissioner of the Japan Sports Agency, said the sports industry was developing in Japan. He stated, "We came to realise that sport is an industry that can generate revenue and we aim to achieve 15 trillion yen ($1.3 billion) by 2025. We want to create 20 additional stadia and arenas by 2025. The size and scope of each of them is different and so we can't look at them as one category. Stadia are large in size and expensive, while multipurpose arenas can be used for things other than sport."
He said that stadia and arenas could take on the role of shelters following natural disasters and national emergencies.
Hiroshi Hase, Member of the House of Representatives, said the new Olympic Stadium should become a focal point for sports and activities following the 2020 Games. Informing that, "The area around the new Olympic Stadium has been designated as a special district with commercial facilities, hotels and other related facilities. People gather there for sports but we can also introduce other activities." He said revenue generated from the facilities around the Olympic Park should be re-invested back into the community.
Meanwhile, Saburou Kawabuchi, President of the Alliance of Japan Top Leagues, gave an impassioned speech in which he said the country needed more and improved sports venues to be built and that Japan should learn lessons from the US and Europe, "Rather than just maintaining the status quo we should be more ambitious, otherwise we can't achieve higher goals."
http://www.psam.uk.com/saap-2017-provides-perfect-forum-for-business