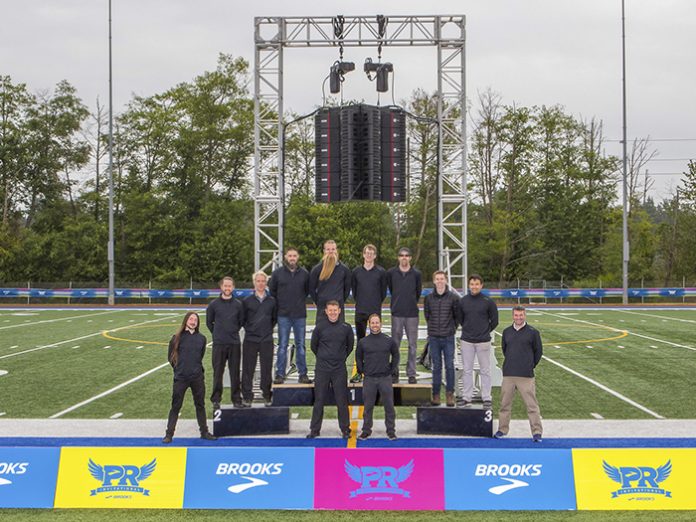 Service Solutions Audio Visual, Washington, provided an Eastern Acoustic Works (EAW) Adaptive sound reinforcement system to back up Brooks PR Invitational, a running event which draws over 1,500 participants and fans.
Cristian Krumbah, account executive for Service Solutions AV explained: "This is a full day event that has us rolling in loudspeakers and full video at 7 a.m. and heading home around 10 pm, this year we utilised our new Anna system for complete 180-degree coverage in the stadium, which minimised set-up time considerably."
Cristian and his team hung the Anna arrays from a truss arch that was 20-feet tall, 10-feet wide and located near the 50-yard line. They left-right arrays – each made up of two columns of six Anna – hung side-by-side to provide the clarity and quality the event requires. FOH was located up in the crow's nest, also at the 50-yard line.
Cristian added: "The stadium only has seating on one side, so the goal was to blanket the fans while also covering the far ends where the athletes started and/or ended their races, the system was for awards, announcements and video bumps between each race."
Service Solutions AV opened their doors in 2000 as a hotel AV supplier and has grown into one of the larger AV production houses in the northwest, with aspirations to expand further in the future.
Cristian concluded: "The addition of the Adaptive Anna system provides us with the flexibility to create larger productions for clients like Microsoft, Google, and Amazon, allowing us to build on our rock-solid foundation, It's exciting to see what Anna can do, I'm positive the system will add substantially to our business."