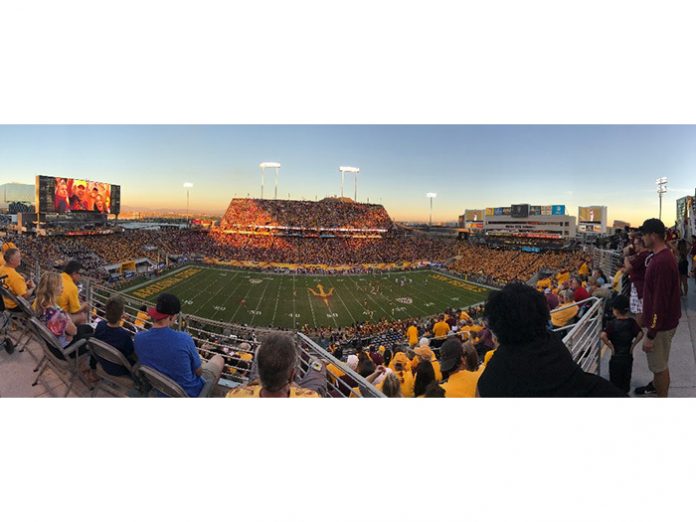 The Sun Devil Stadium 365 Reinvention seeks to blend athletics, student life and the community into a multi-use facility that will be used 365 days of the year. To help accomplish this goal, the school called upon Wrightson, Johnson, Haddon & Williams (WJHW) to design a new sound reinforcement system that would provide the flexibility the multi-use concept requires.
Mark Graham, audio consultant, associate principal, WJHW designed an Eastern Acoustic Works (EAW) Adaptive end-zone system that covers the 57,000-plus-seat facility with even SPL and extremely consistent intelligibility. Tempe, Arizona-based Sound Image provided system integration and installation for the project.
"We were familiar with Anya and were confident this would not only provide the coverage the University required but also the flexibility to use the stadium for events that expand well beyond football games," added Ben Davis, Sales Engineer, Sound Image. "They wanted a system that could put sound only where it was needed. Not only would that help avoid unnecessary reflections, but it would be a far more efficient use of the system. Anya can do that very easily. It was a perfect match."
Graham specified two Anya arrays, each hung to the left and right of the video scoreboard. Each array is made up of one main column of 16 Anya and an auxiliary column of eight additional modules – bringing the total to 46 Anya. Adaptive Performance manages coverage and directivity via Resolution 2 software. The combination allows the system to throw 650 feet from one end of the stadium to the other or scale it back for events that will not utilize the entire space.
Scoreboard underfill is covered by two more clusters – this time each are made up of two QX544i and one QX564i loudspeakers – hung under the main PA columns to ensure those directly under the end zone scoreboard have the same audio experience as everyone else in the stadium.
"There are a few seating areas with limited coverage due to structures that block sound," added Ben. "In those cases, we are utilising EAW MK8126i loudspeakers placed under the overhangs and directed to the far seating under the balcony to ensure not a bad seat in the house. We also installed EAW CIS ceiling loudspeakers in the suites, restrooms, hallways and common areas, keeping the audio quality seamless throughout the space."
Ben concluded: "The client continues to be quite happy with the result. As a matter of fact, we are working on some other projects for them where we are also using EAW Adaptive systems. This has been a highly successful project for us."