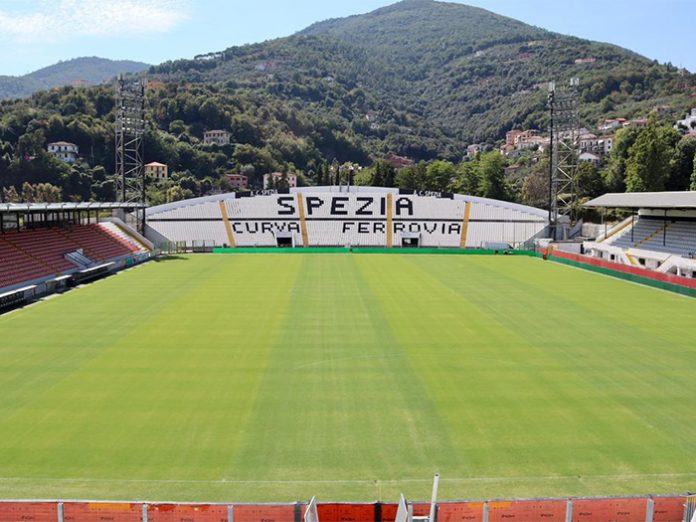 Spezia Calcio welcomed fans back at the Alberto Picco Stadium for the Serie A match against Udinese on Sunday after renovations to the "Curva Piscina" of the Alberto Picco were completed ahead of schedule.
Three months after taking over the club, US Investor Robert Platek – whose ownership group also acquired two other teams in Europe (Sonderjyske Foodbold in Denmark and Casa Pia AC in Portugal) – decided to renovate Spezia Calcio's grounds, located near the Cinque Terre National Park in the Liguria region, with an investment of €15 Million. The investment in the stadium project is a clear sign of the family's long term commitment to Spezia Calcio and its desire to keep the club in Italy's top tier.
Renovation work began on June 21 and increased the Curva Piscina's capacity to 3,176 seats, divided into two sections. The refurbished Curva Piscina has been approved by the Supervisory Committee and Lega Serie A, and starting from the home match against Udinese – scheduled for Sunday, September 12 at 3 p.m. CET – the Picco will hit the Serie A limelight, this time with the Aquilotti crowd in the stands.
The "Picco" – even at 50% capacity – will roar again and the Aquile will finally return to celebrating with their fans, who for too long have been away from their home.
Spezia Calcio owner Robert Platek said, "I want to say thanks to the mayor, the municipality, police and fire departments and everyone else in the city who supported us in this project. This herculean accomplishment would only be possible with the support of our great architects GAU Arena, the construction company CLARIN ITALIA TRIBUNE S.R.L, and of course, our amazing team lead by Riccardo Lazzini – it's an amazing achievement! To the fans, I say: we did this for you, your support is vital to the team and inspires us all. We look forward to hearing the huge noise on Sunday to support the boys! Forza Spezia!"
The first phase of the three-year project firmly backed by the Platek family has now been successfully completed. The other two phases of stadium renovations will begin at the end of the 2021/22 season and the focus will shift to the Tribuna of the Viale Fieschi facility.
The mayor and the local authorities played key roles in the delivery of Phase One, but it also could not have been accomplished without the expertise of architect Gino Zavanella's GAU Arena and the invaluable contribution of the work team coordinated by the head of infrastructure, Riccardo Lazzini.