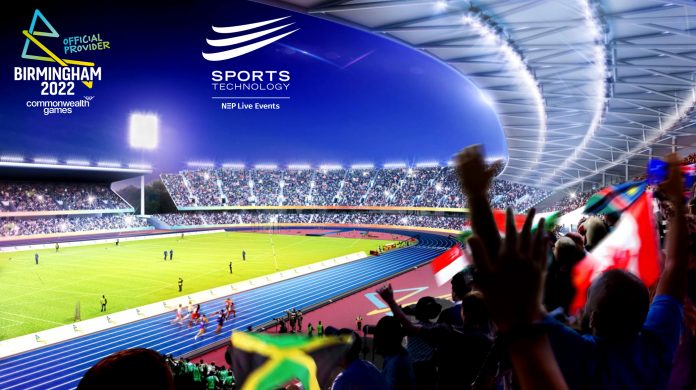 Sports Technology (ST) has been appointed Official Provider of Large Video Screens and Audio Services for the Birmingham 2022 Commonwealth Games.
Alongside LED and PA systems in the majority of the venues, ST will provide a broad range of audio-visual services including an innovative and highly flexible signal distribution network in every venue, providing a fully integrated IP based solution for all non-broadcast audio, video and data distribution. The avIP network will be an evolution of ST parent company NEP's acclaimed proprietary TFC system developed to manage global remote production and IP based broadcast solutions.
The Birmingham 2022 Commonwealth Games will see around 4,500 athletes from 72 nations and territories compete in 19 sports across 14 competition venues from 28 July until 8 August 2022. As the biggest event ever to be held in the West Midlands, it is expected to attract more than one million spectators to the city and have a global TV audience of 1.5 billion.
A key element of ST's winning proposal was their social engagement plan which includes a partnership with West Midlands based Resonance College and a measurable commitment to engage local businesses and contractors across all aspects of the 2022 delivery.
ST and UK sister company Creative Technology are entering into a long-term relationship with the college which will include support with training, technology and an ambitious work placement and internship programme both for Games time workforce and the longer term, bringing real opportunity to young people in the technical disciplines of the performing arts in the West Midlands.
Damian Rowe, Managing Director of Sports Technology, commented from Tokyo: "This will be our third consecutive full-service AV delivery at a Commonwealth Games and third consecutive Games as an 'Official Provider'. Over the last 12 years we have expanded our social engagement model around these Games and are excited to be able to provide solid and tangible opportunities to aspiring youngsters from the West Midlands. We already have a full-time project manager embedded in the technology department at Birmingham 2022 and look forward to building a team of around 125 people over the next nine to ten months including experienced project and technical specialists supported by local contractors and workforce wherever possible."
Sports Technology CEO Dave Crump added: "As a global event technology supplier with our roots firmly in the UK we are excited to be continuing our journey with the Commonwealth Games which started 36 years ago in Edinburgh. As an organisation we value our long-term relationship with the Games and are looking forward to providing further technical innovation whilst bringing real opportunity to young people in Birmingham."
Laurence Smith, Head of Venue Technology for Birmingham 2022 said: "It's great to have Sports Technology on board as they join us as our Official Provider of Large Video Screens and Audio Services for Birmingham 2022. Sports Technology are globally renowned for their successful delivery of multi-sport event AV, so we are delighted to be working with them to stage the Birmingham 2022 Commonwealth Games. They have fully embraced the Birmingham 2022 Social Values Charter, making tangible commitments to involve local AV technicians and students in the delivery of this event, forming relationships and legacies that will last well beyond 2022."
CGF Executive Director Martin Reynolds said: "We are delighted to welcome Sports Technology back for the third consecutive Commonwealth Games. As the Birmingham 2022 Official Provider of Large Video Screens and Audio Services, Sports Technology will play a huge role in helping us deliver the Games while their commitment to the region as part of this partnership will help create a lasting legacy for the local community."