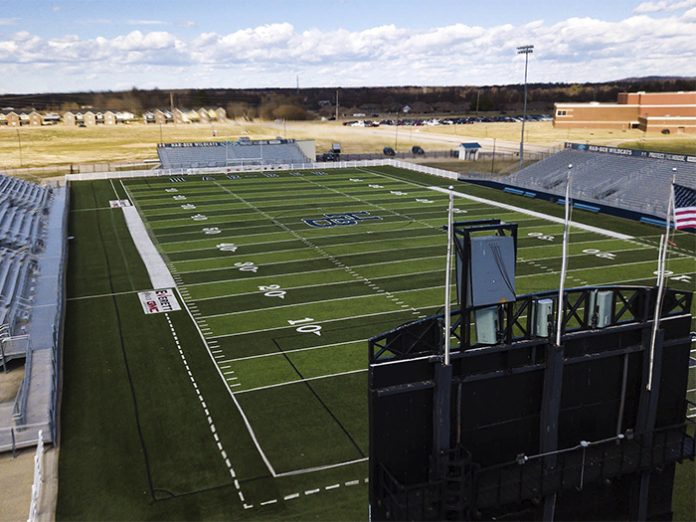 Springdale School District is the largest school district in Arkansas and is responsible for over 23,000 students. It operates two high schools – Springdale High School and Har-Ber High School – each with over 2,000 students. Football is a big deal in Springdale, and both high schools have well-appointed stadiums that are capable of entertaining over 6,000 fans each. Not content with the anemic sound reinforcement that is typical at the high school level, the district worked with local Springdale AV integration firm, All AV Services, to design a big-impact, high-intelligibility, sound reinforcement system using a single Danley J1-94 Jericho Horn in each stadium. The deal was sealed after an impressive demo arranged by regional Danley rep Anderson Sales & Marketing won over all the stakeholders.
"The decision-makers at Springdale School District were well-acquainted with the world of speaker-on-a-pole sound systems, and they were tired of it," explained Scott Fusselman, owner of All AV Services. "Sure, you can build a speaker-on-a-pole system that's reasonably intelligible, but they wanted a real game day experience. They wanted something with guts. They wanted to feel the music. They wanted atmosphere. Stephen Lightfoot, Springdale School District director of performing arts centers and AV systems, did his own research before reaching out to us and discovered that Danley Sound Labs might have the kind of impactful, out-of-the-ordinary solutions that they were looking for."
Stephen went so far as to find the nearest high school with a Danley Jericho Horn and contacted Scott with the idea that they drive eight hours round trip to hear it. Scott was game, but before they actually went, he contacted Kim Comeaux at Anderson Sales & Marketing. "Kim was incredibly helpful," Scott said. "He first made sure that Springdale School District was aware that, by itself, a Danley Jericho Horn looks pricey. I had already hashed that out with Stephen, and the only alternative would have been a much larger system with vastly more components that, while cheaper individually, would sum to rival the Danley system's cost; and for performance he already knew they weren't interested in. Kim suggested that instead of driving all that distance for a demo that only Stephen would hear, it would be better to arrange a demo right there at Springdale High School so that Stephen, the athletic director, the principal, the dance team instructor (really everyone) could hear it. Then no one would have had to trust someone else's opinion… they would have heard it for themselves!"
Comeaux brought a Danley J1-94 Jericho Horn to Springdale High School and approximated its would-be installed position near the scoreboard. Everybody involved walked the field and traveled both the visitor and home stands while Comeaux played a representative mix of spoken word and game-day music. "Everyone had a huge smile on their face," Scott said. "The athletic director is a University of Nebraska alum, and he made the joke, 'I'd really know how good this system was if I heard Nebraska's fight song, Hail Varsity.' Without saying anything, Stephen pulled it up on his phone and as the athletic director was walking off the field, Kim got it up through the Jericho. That guy's fists went up into the air, he was thrilled!"
With everyone solidly on board, plans moved forward to get a Danley J1-94 Jericho Horn installed at Springdale High School before the first game of the season. But as that day approached, the approximately fifteen-year-old system at the other high school, Har-Ber, went out completely. Worse, Har-Ber's first home game was earlier than Springdale's. Finding itself in a tough spot, Springdale School District asked All AV Services to install the Jericho Horn it had on hand at Har-Ber and to order a second for Springdale. "One job became two," Scott said. Both Jerichos went in with a four-channel, 20,000-watt Danley DNA 20k4 Pro amplifier with integrated DSP and optional Dante connectivity for simple connection to existing systems at the press box. To save money, Springdale's capable engineering staff fabricated the necessary accessories and installed the systems themselves.
"The completed systems are everything they had hoped for," Scott said. "When you're walking toward the stadium before a game and you hear the Danley Jericho booming out, you know you're in for an event. This is no budget PA. This is exactly the kind of experience Lightfoot and everyone at Springdale was hoping for when the project began. Having heard how Danley transformed their football fields, they're believers."
Stephen shared his thoughts: "The Jericho has the ability to transform the atmosphere at high school football games. No longer are we crippled by mediocre SPL and low intelligibility, but now have the exact opposite. It has the presence of a professional stadium. I think it is phenomenal that from 140 yards away (which is where our band bleachers are) there is still low-end presence. This is something you typically don't see in a high school football stadium, let alone out of one single cabinet. Danley's motto "Hearing is Believing" holds true to their product. We will be utilizing Danley systems in many more facilities."