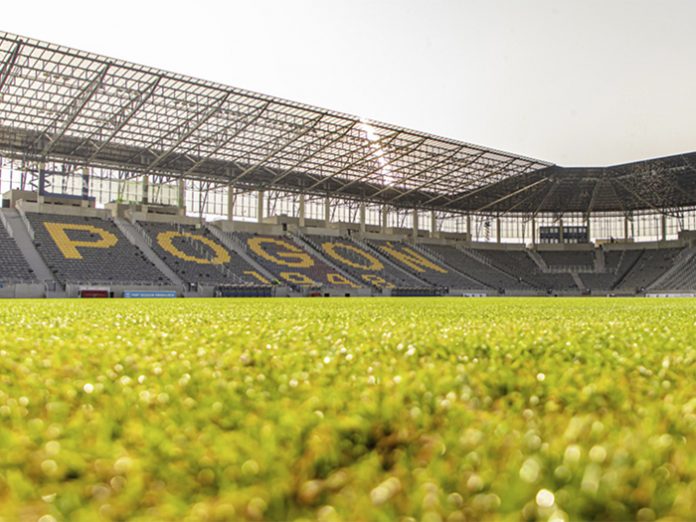 The Florian Krygier Municipal Stadium has recently undergone a complete modernization which includes the installation of a new sound system based on RCF P Series speakers.
The Florian Krygier Municipal Stadium located in Szczecin, Poland, is a football stadium with a long history. It was built in 1925 with the name of Florian Krygier, named after a Polish football coach who was an instrumental figure in Pogoń Szczecin's history.
Since the 1950s club management was under MKS Pogoń Szczecin until 1989 when Szczecin City Commune transferred operations to the Municipal Sports, Recreation and Rehabilitation Centre (Polish: Miejski Ośrodek Sportu, Rekreacji i Rehabilitacji – MOSRiR). Until the beginning of 2007, it was the most prominent facility in the Polish Orange Ekstraklasa football league. It is currently used for football matches and is the home stadium of Pogoń Szczecin.
The stadium itself has recently undergone a complete modernization, so only part of the old stadium is still in place. A significant reconstruction started in 2019 with planned completion scheduled for 2022. The investment includes the Training Centre for Childres and Youth (Centrum Szkolenia Dzieci i Młodzieży), remodeling and expanding the stadium, football fields, and associated infrastructure. The new stadium will reach 20,500 seat capacity and 22,000 square meters of covered area. It will transform into a "closed" stadium with four grandstands and roofed.
The first phase of modernization of the stadium within the west and south grandstands has been completed recently with a new sound system based on RCF P Series speakers. All P 6215 are suspended to the roof of the stadium coupled in vertical clusters, two speakers per cluster.
The sound experience provided by the new system confirms an improved change in sound quality. "We are going to hear a qualitative leap during football matches," confirmed the stadium presenter /commentator Adam Wosik, who has taken part in testing the RCF system. "If we will build the new stadium with the quality of the sound system, then it is going to be a Champions League facility!"
The sound system has been delivered and completed by TOMMEX company, official distributor of RCF install products in Poland, in cooperation with the Elektro – BUD company, providing the electrical infrastructure for low voltage wiring of the sound system.