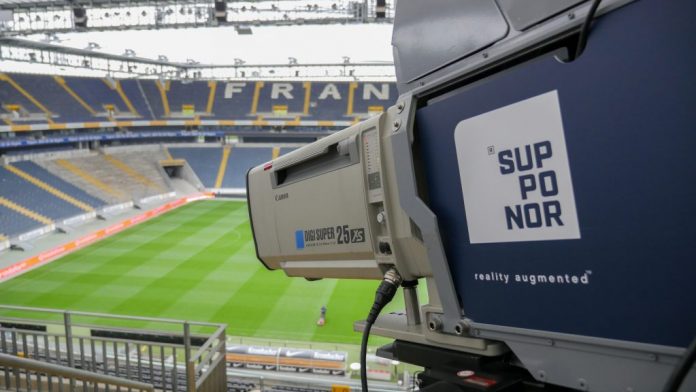 Supponor, the world leading virtual advertising technology provider, SPORTFIVE, the global sports business agency, and Bundesliga team Borussia Dortmund, have confirmed the first commercial deployment of Supponor AIR®in the German territory.
This key milestone took place over the weekend, during the Borussia Dortmund vs RB Leipzig match. Supponor AIR® is now available also for the German market, as it is the only software-based virtual advertising solution which secured the league-wide approval, by the Deutsche Fußball Liga (DFL).
Supponor AIR® can be used in any weather conditions regardless of the kick off time, being it day or night. The innovative solution is natively developed to be operated remotely, in addition to traditional on-site. It requires no physical integration with the live broadcast production andvirtual system operations no longer take place at the venue, and instead can be delivered from a remote location which could be anywhere in the regardless of the contribution and distribution format (e.g., satellite, fibre, IP) as it has the ability to be deployed at any stadium without any specific requirements on LED board technology, LED assets or camera systems.
SPORTFIVE and Supponor have been partners since 2017 in Germany having collaborated to launch the first use of virtual advertising in the German Bundesliga in partnership with Borussia Dortmund. The innovative nature of this partnership is again highlighted by Borussia Dortmund's adoption of Supponor AIR® in Germany – the first club to use the technology in the country.
Mario Lucan, Executive Director Product Management at SPORTFIVE Germany explains: "With the new Supponor AIR® technology, we are taking Virtual Advertising to the next level. It makes the use of Virtual Advertising even easier and more attractive for rightsholders and sponsors. Together with our partners Borussia Dortmund and Supponor, we are very pleased to be the first to offer computer-based Virtual Advertising in the Bundesliga."
Massimo Magrì, Managing Director Europe at Supponor explains: "At Supponor we are extremely proud to have launched Supponor AIR®, arguably the most disruptive technology solution in the sports industry, on the German market together with our long-standing partner SPORTFIVE and top club Borussia Dortmund. Thanks to the league-wide approval by the DFL, Supponor AIR® is now available to all Bundesliga clubs in all conditions, including weather conditions and kick-off times. Because of its operational efficiencies and subsequent cost savings, Supponor AIR® is accessible to any club on the market."