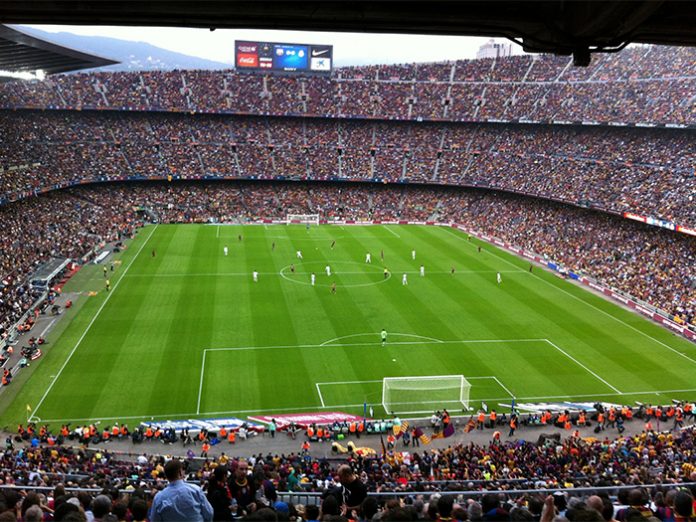 Following several positive announcements for the sport industry in the past couple of weeks, including the announcement of LaLiga resuming on 11 June, Supponor has announced the opening of its new office in Spain. The company has chosen Barcelona as a strategic location that will reinforce its commitment to continuous innovation and expansion of its sixth season of commercial deployment in LaLiga.
The opening of the new office follows the recent long-term deployment agreement with FC Barcelona which was followed by the multi-year renewal with Mediapro to continue to deploy Supponor's advanced virtual advertising technologies in LaLiga and elsewhere in Spain.
Supponor's innovative virtual advertising solutions are delivered using certified perimeter LED systems from TGI and operated by Mediapro as the exclusive production partner for LaLiga. Matches played by FC Barcelona, Atletico Madrid, Real Madrid, and RCD Espanyol de Barcelona already deliver multi-feed virtual LED perimeter and virtual camera carpet solutions to more than 25% of all top flight LaLiga matches each season with further growth planned.
James B Gambrell, CEO of Supponor, said: "The opening of the office in Barcelona demonstrates our commitment to our clients and partners in Spain. Despite the uncertainty caused by COVID-19, Supponor continues to invest to support growth in the Spanish market to support further European expansion and as the foundation for our larger growth ambitions in the Spanish speaking world.
The new office will be headed up by Casper Siewertsen who will oversee commercial activities with strategic account partners, and Ben Arnold, who will provide local support for continued product & solution development. Casper joins Supponor after 5-years at FC Barcelona where he worked as part of the Business Intelligence on the development of the commercial offering of virtual advertising. Ben returns to Supponor after many years working for Mediapro on the initial development and deployment of Supponor's virtual advertising operations in Spain.
Casper Siewertsen commented that: "The importance of Supponor's successful commercial deployment in Spain with Mediapro, its long term broadcast production and rights partner, along with FC Barcelona, underpins LaLiga's importance as a global reference for innovation in virtual advertising and Supponor's proven technology leadership with key industry players in Europe and around the world."