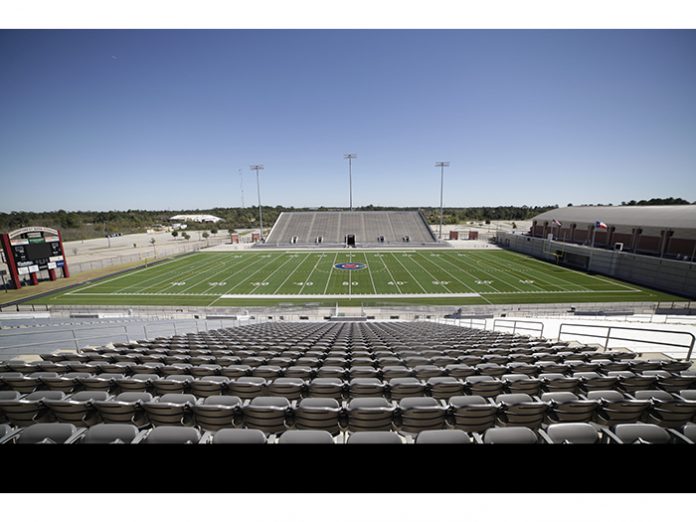 Conroe Independent School District (CISD), 40 miles north of Houston, needed a new sound system for Woodforest National Bank Stadium, its leaders called on TASC A/V.
Based in Conroe, the TASC team knew exactly what was required: very loud, yet clean and clear audio to serve a big, noisy, enthusiastic crowd plus straightforward and simple system control. To manage the system, the TASC A/V team chose a Symetrix Prism 12×12 DSP.
"This was the second large stadium we've done for the Conroe Independent School District," recounted TASC's Steven Spruell. "A couple of years ago we put a similar system in Moorhead Stadium, which is in Conroe and seats 8,400. We used a pair of Symetrix Radius DSPs for that install."
Woodforest National Bank Stadium is about eight years old, hosts five teams, and is even larger than Moorhead Stadium. "Woodforest's previous sound system was always underwhelming," Steven continued. "The system was underpowered, and its frequency range was poor. We're high school football fans, like everyone else around here, so we experienced it first hand. The new system needed not only power to be heard above the crowd but clarity. One reason we chose a Symetrix DSP was its sound quality."
Symetrix Prism DSPs offer 128 (64×64) Dante channels for ultra-reliable multi-channel audio networking over IP. The Prism's analog I/O is scalable; the Prism 12×12 chosen for Woodforest Bank Stadium provides 12 switchable balanced mic or line-level inputs and 12 line-level outputs. Prism's embedded web server displays I/O levels, diagnostics data, and hosts Symetrix' ARC-WEB browser-based interface for smartphones, tablets, and computers.
"We went with an all-Dante system, which is another reason the Prism was the right choice," Steven reported. "The Prism has an excellent Dante implementation."
To deliver the requisite decibel power, the TASC A/V team mounted two Community R6-51 high-output, horn-loaded loudspeaker systems on custom-built towers in the south end zone, opposite the Daktronics scoreboard. The speakers are driven by 14,000 watt Lab Gruppen power amplifiers. "At the far end of the field, the speakers can still hit 96 to 97 dB, with plenty of headroom," asserted Steven. "Between the speaker's power and the overall system's sound quality, fans have no problem hearing everything."
In addition to its Dante support, sound quality, and compatibility with third-party controllers, Spruell appreciates the Symetrix processor's ease of programming. "Symetrix' Composer software made it easy to program the Prism," he detailed. "With Composer, we can design a complete end-to-end DSP signal path, including routing the Dante streams and programming the user interface. That makes a big difference in projects such as this one."
Having installed two systems in CISD stadiums, both based on Symetrix DSPs, TASC can claim two of the most important sound system projects in the area. "Both stadium systems have been a big success," confirmed Steven. "We use a lot of Symetrix DSPs, and the new Woodforest National Bank Stadium system is a good example of why. It works great, sounds great, was easy to program, and is easy to control-everything we and the school district hoped for."