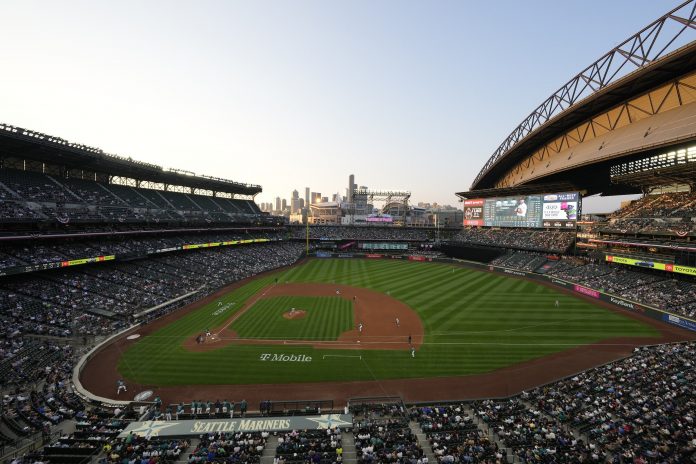 The large-scale stadium/arena is vastly different now then 10 years ago," states Jeff Sanderson, senior design engineer – large venue sound for Diversified U.S. "With a 40,000+ seat stadium like T-Mobile Park (Seattle), the biggest consideration is speaker placement for coverage, throw distance, building structure, HVAC; a lot of areas come into play. The fan experience was key. Baseball and even football have pre-recorded music, but major outdoor sporting events and tours need to tie into a rig to support the venue and achieve high sound quality for both the venue, fans, and Diversified clients. Even for events that are beyond baseball, concert and corporate events, consideration needs to be given to the full system, concourse, announcements, etc."
Sanderson was the original system designer for the initial installation at T-Mobile Park. A sound system upgrade at T-Mobile Park was in discussion for about eight years. "Most stadiums are 10-15 years on a sound system. With a focus on creating the best fan experience, the Mariners decided in 2020 to transfer to a new system.  The system we chose was the d&b audiotechnik xS-Series." 
Sanderson said he is very familiar with d&b systems, so he knew full well the loudspeakers' capabilities. "We did an upgrade for the Anaheim Angels which is all d&b, so we took the Mariners crew down in 2018 to give them a demo during a game time experience. We were demoing systems, head-to-head between two companies but in the end, the client really leaned toward d&b. During the demo process, the quality differences blew the client away providing an unmatched fan experience which was our ultimate goal. Musically, it required very little adjustment. More fine tuning with the roof open and closed was required, and to maximize quality throughout the space. Over the years, the biggest change is on the audio network side via Ethernet, control, etc. Now we have a fiber backbone to control systems, with no hums, etc. which is nice. Using the Q-Sys plugin, all the tuning and adjustments for system EQ is controlled through the Q-Sys."
Upper deck arrays are comprised of an 18S-SUB mounted together with 24S point source loudspeakers for the front, 12S-D down and 12S-D rear-firing cabinets. There are 35 total positions in the upper deck layout, and over twice number of subwoofers compared to the previous system. A VLAN carrying Q-LAN and Dante are on the same network. 24S and 12S-D point source loudspeakers support the lower seating area. We were really excited to see it in action once baseball opened back up." 
"The original system, which was installed when T-Mobile Park opened in 1999, had served its purpose and it was time to upgrade to something that would enhance the fan experience and give us more control over the sound profile for ballpark events," said Ben Mertens, Seattle Mariners Senior Director, Productions. "Working with Jeff Sanderson and his team at Diversified, we were able to use the existing footprint and add speakers without impacting sightlines. The upgrade in the audio experience has helped T-Mobile Park stay current with more recently constructed venues and provide the kind of experience our fans expect." 
With their unobtrusive cabinet design the d&b xS-Series of installation loudspeakers are ideally positioned within a variety of venues including restaurants, bars, lounges, conference and meeting facilities, assembly halls, lecture theatres as well as clubs, houses of worship and multipurpose venues. For added flexibility, rotatable horns enable the loudspeakers to be deployed in either orientation, while the cardioid subwoofer technology delivers low frequencies exactly where needed and not behind the system.
"U brackets used from d&b are another cool thing; we worked with them for color choice and custom hardware," adds Sanderson. "The loudspeakers are weather resistant and a special version for stadium use in salty air, direct sunlight, and all weather-related elements. Even the color delivered was spot on – the same shade of green used on seats, outfield walls and other areas of the ballpark."
High quality sound should not be limited to indoor, temperature-controlled environments.  d&b has solutions for weatherization, saltwater conditions, as well as any aesthetic needs including color, texture or other custom solutions. Furthermore, the 12S and 24S loudspeaker enclosures are Ball Impact Resistant according to DIN 18032-3 for sports and multipurpose venues.
Diversified installed brand-new fiber everywhere. They worked directly with the Mariners IS department for a separate network island that is not part of a conversion network, which is critical on the audio side. For servicing, the user can remotely access the computer and core to address any issues if necessary. SMAART was used for time alignment.
"The d&b DS10 Dante based interface provides AES outputs for the amplifiers to receive signal," explains Sanderson. "Q-Sys is being used by the front of house engineer for game time operations and troubleshooting. Should there be an issue, we have ways to get into the guts of the system to diagnose the problem.
Pattern control is especially important in stadiums. The retractable roof at T-Mobile Park can be highly reverberant so we developed a high-density system, getting speakers as close to listeners as possible." All d&b subwoofers are in the upper canopy, and it gives a nice full frequency response to the system but is not intended to be case specific.
"The experience working with d&b audiotechnik was incredible from my standpoint; we collaborated together even with the time difference between Germany and the West Coast," notes Sanderson.