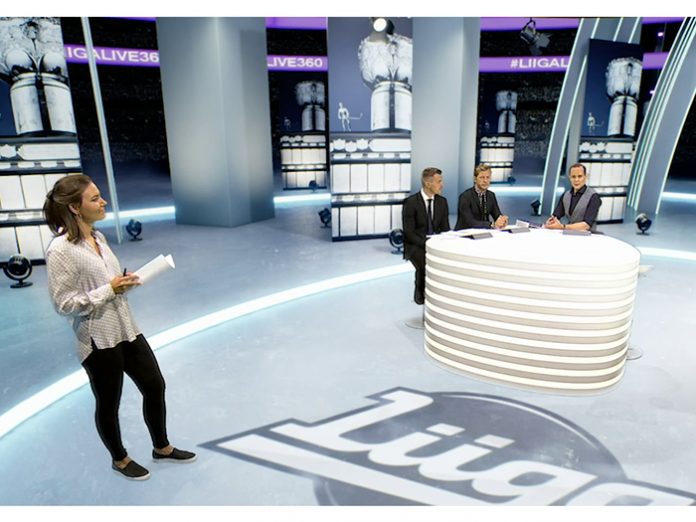 Telemetrics has established a close working relationship with Zero Density, makers of virtual set and augmented reality systems. When used together, the combined power of Telemetrics robotic camera systems and Zero Density's advanced compositing and rendering technology will provide broadcasters with captivating new real-time visual effects.
"Telemetrics' robotic control systems and Zero Density's virtual studio technology have been successfully used to create powerful AR and in-studio graphics that viewers have enthusiastically embraced," said Michael Cuomo, Vice President of Telemetrics. "Our combined technologies also provide a good foundation for At-Home productions and studios operating remotely. This is a partnership that will result in many benefits for our respective customers."
As one example of this on-going partnership Streamteam Nordic Oy, one of the largest technical TV production companies in the Nordic countries, is now making previously unavailable player interviews and multi-layered graphical elements "come alive in virtual reality" on set in real-time for viewers at home.
Working within a state-of-the-art, green screen studio owned by public broadcaster YLE in Pasila, Helsinki, Finland, Streamteam has developed an innovative technique using a Reality Virtual Studio system from Zero Density to allow live on-air presenters to regularly interview stars "in-person" without those stars physically appearing in the studio. Instead, they are using special VS software from Zero Density to enable that player to be interviewed at the sports venue against a green screen located miles away and have their image appear in the studio for the live interview.
"Streamteam utilizes Reality's latest virtual studio and AR tools and strives to work with the best broadcast technology in YLE studios. We're proud to be involved in their immersive projects alongside Telemetrics," said Ulas Kacmaz, Co-founder and VP of Sales and Marketing at Zero Density. "This application – "teleportation" – is not new to the industry, but we raised the standards to another level with photo-realism and dynamism."
The innovative production system includes remotely controlled camera robotics consisting of the Telemetrics RCCP series controller, LP-S5 PT head, and EP-1000 ceiling-mounted pedestal systems, which first went live for the start of 2019/2020 hockey season. This robotic system is critical to tracking the on-air presenter in relation to the computer-generated player being interviewed in real-time. The Telemetrics pan/tilt heads provide a UDP-stream of positioning data to the Zero Density Reality Engine, which in turn renders the look of the player.
In total, a single Telemetrics RCCP-1A robotic camera control panel and two Telemetrics PT-LP-S5 Pan/Tilt heads were installed, one with a longer EP7-1000 Televator®
elevating pedestal and the other with an EP7-600 and a 9-meter TeleGlide® track mounted on the floor of the 8×6 meter YLE studio.
At each hockey arena of The National Finnish league, a player stands in front of a small green screen and wears a headset to enable them to talk with the presenter. Their virtual image is then generated in the studio for viewers at home to see. The VS effect is very realistic looking (with a mere a 1 millisecond of delay) and allows the real presenter to interact with the virtual star as if they were together in the same room.