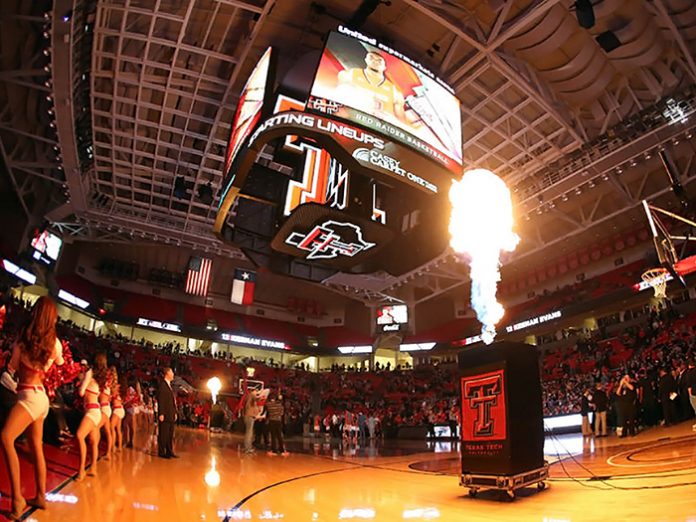 United Supermarkets Arena in Lubbock, Texas is home to Texas Tech University's Raiders basketball and volleyball teams. Built in 1999, the 15,000-seat facility is part of the cultural lifeblood of midsized Lubbock, hosting games, concerts, and other big events. While famed basketball coach Bobby Knight piloted the team (2001–2008), the game-time atmosphere relied on the band, spoken word announcements, and little else. But since his departure, it has moved toward more modern music playback, a task for which the existing sound system was inadequate. Enter Danley Sound Labs: A recent installation of Danley Sound Labs' patented Synergy Horn point-source loudspeakers and tapped horn subwoofers has United Supermarkets Arena rocking, a fact that may have inspired the team's great 2016 season and NCAA Tournament appearance.
"Our old sound system, which was installed when the arena was built, had worn well but was also well-worn," said Eric Newell, technical director and production manager for the arena. In the run up to the 2016 season, Newell and his team got the budget to update the scoreboard and the sound system. Larry Lucas at Anthony James Partners designed the system, and Ted Leamy led the installation for Panasonic/ProMedia.
Texas Tech had its collective eye on Danley and another high-profile loudspeaker manufacturer, so Lucas arranged for a shoot-out. "It was side-by-side so there was no ambiguity," recalled Newell. "The decision to go with Danley was unanimous. The sound was obviously fuller and more realistic. Importantly, the Danley subwoofers sounded fantastic and gave the arena the low end we were hoping for."
The new Danley system uses eight clusters of two Danley SH-96HOs each, which ring the perimeter of the basketball court. The lower box covers from the first row through most of the lower bowl. The upper box picks up the coverage to finish the lower bowl, along with almost all of the upper bowl. "The coverage is excellent," said Newell. "There's a phantom center pretty much anywhere you're at such that sound seems to be always coming from directly in front of you. It's really a nice balance." Unlike the old system, which went up with the scoreboard for concerts, only the Danley boxes above the stage-side of the arena need to retract for concerts. They raise high enough to stay out of the way of concert rigging.
Two stacks of three Danley TH-118 subwoofers each on the north and south sides of the scoreboard fill United Supermarkets Arena with deep, robust bass. Twelve smaller Danley SM-80 loudspeakers provide upper-balcony fill for areas that are shadowed from the main boxes, and two additional Danley SH-96HOs fire straight down from the ceiling to cover the court. In all, 15 four-channel Danley 20K4 Pro amplifiers provide abundant, clean power and turnkey (but fully-customizable) DSP that's purpose built to work hand-in-glove with the Danley boxes.
Soon after the system was installed, Joel Moak, Danley's western regional sales manager, and legendary acoustician Doug Jones (now a potent member of the Danley team) flew to Lubbock to verify that the system was in perfect alignment. "Everyone is in love with the new Danley system," Newell concluded. "The videographers were initially concerned that the deep, loud bass was perhaps too much. This came up at a meeting with numerous stakeholders present, and everyone ultimately agree that the deep bass was what everyone wanted! And it proved especially useful this past season because we had so many exciting games – a lot that we won at the buzzer. It was a relief to have a Danley system that could get up and over the crowd noise to keep the atmosphere amped."