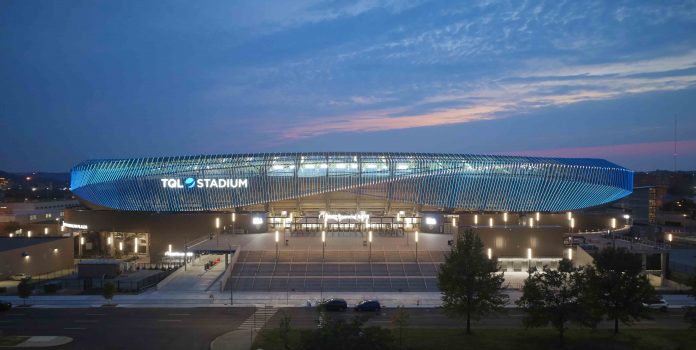 Officially opened in May 2021, FC Cincinnati's TQL Stadium, with its capacity of 26,000, registers as one of the largest soccer-specific stadiums in the United States. The new, state-of-the-art venue boasts a striking presence, connecting two historic neighbourhoods – Over-the-Rhine and West End – and honouring the legacy of soccer in the Queen City through a progressive design and ambitious interpretation of a Cincinnati on the rise.
MONDO | STADIA spoke to FC Cincinnati's Co-CEO, Jeff Berding about the long-term plan behind TQL Stadium: "When Carl H. Lindner III (CEO) and I founded FC Cincinnati as a USL club, the goal was always to be the city's third professional sports team, so, getting to Major League Soccer was always our ambition. We visited the MLS office to confirm with the commissioner that we would have that opportunity if we were successful in the USL. So, from the beginning, we understood that building a soccer-specific stadium was going to be a requirement of promotion to the MLS."
The design of TQL Stadium intentionally harnesses the energy of a dedicated fan base to bring a world-class soccer experience to Cincinnati, which is something that was mapped out very early on.
Read the full cover story in the latest issue of MONDO | STADIA: