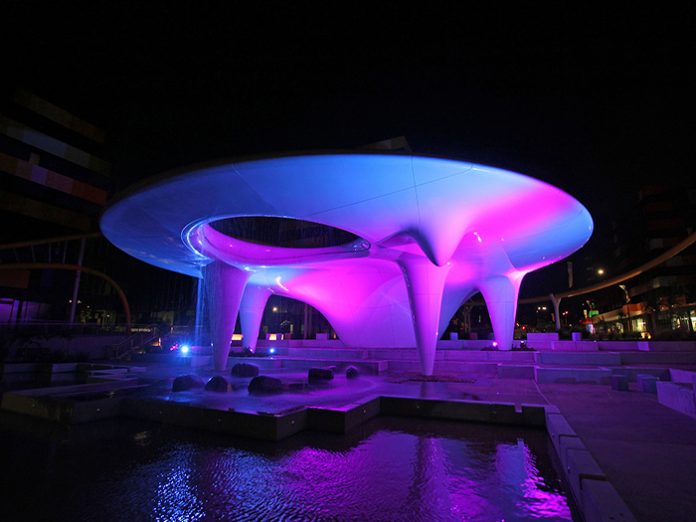 The 2018 Commonwealth Games Village – the latest urban renewal project of the Gold Coast – became a temporary home for over 6,600 athletes and team officials who came to Australia from all over the globe.
The ULA Group partnered with Elite Event Technology to illuminate the main common outdoor areas of the Village to help create a vibrant, dynamic and festive atmosphere within this unique site during the Games.
The brand-new complex of the Commonwealth Games Village – developed on the 29-hectare site – provided residential, retail, recreation, dining and medical facilities for the athletes and officials during the 11 days of this high profile international sporting event.
The Village is very patriotic and the attention to Aussie detail is so impressive. The overall design is all about the colour and represents Queensland in the very nicest way, with the residential villages called Rainforest, Reef, Outback, Beach, Surf and Sunset.
The whole idea of incorporating temporary mood lighting to the complex was to highlight the colours and playfulness of the Village and the Games even during the dark and provide a perfect place for the athletes to celebrate the wins and success of their national teams.
For Elite Event Technology, with the recent Investment to the new Acme Lighting outdoor fixtures, this was a great opportunity to test these IP65 rated fixtures in Queensland's unpredictable weather conditions. The team used 56 Acme Outdoor Tour Pixel 1010 Bars to illuminate facades of various buildings within the complex, running different colour patterns and colour themes each night between dusk and dawn.
One of the nicest features of the 2018 Commonwealth Games Village is the Village Heart, a white sculpture with vertical fountain. This original sculpture was modelled on the Natural Arch in the nearby Numinbah Valley behind the Gold Coast, where water cascades down the limestone and glow worms appear at night.
Twelve Acme Stage PAR 400 Zoom IP fixtures were strategically positioned around the sculpture to bring it to life with beautiful saturated colours and purposely programmed lighting schemes, with the green and gold theme being one of the most popular.
The whole Commonwealth Games Village project was guided by environmentally sustainable design principles, encompassing environmental, social and economic initiatives and received a full 6 Leaf Enviro Development Mixed Use accreditation form the Urban Development Institute of Australia for its ecosystems, waste, energy, water, materials and community. The Parklands project has also achieved a 6 Green Star Communities pilot rating from the Green Building Council Australia, the equivalent to "World Leadership" in sustainability.
The 2018 Commonwealth Games were a great success, with Australia topping the medal table for the fourth time in the past five Commonwealth Games, winning 80 gold medals and 189 medals in total.
Huge congratulations to all the athletes representing Australia!  Both teams at ULA Group and Elite Event Technology are very proud that we could have been a part of this amazing event!