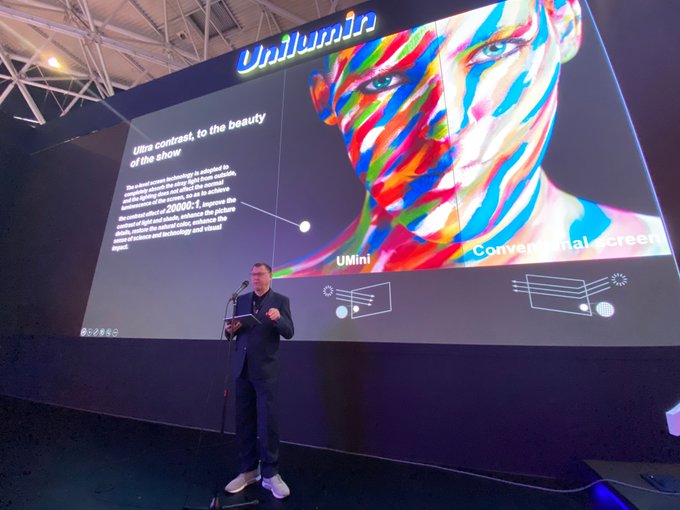 ISE Press Conference Q&A – Steve Scorse, CEO of Unilumin UK Ltd
Can you introduce UMini to us?
The market's demand for LED screen of big size, high density, vibrant colours and great details is increasing over these years, especially in control rooms, broadcasting rooms, meeting rooms, companies, shopping centers, and many other places. That is when UMini comes into being.
UMini is the first product in the industry to achieve the effect that presents a prefect picture with 20,000:1 high contrast ratio and HRD. The brightness can reach 2,000 nits, so even if it's in a bright room, the visual experience would be great. And the high brightness makes UMini fit into a wider range of scenario applications for our customers. Also, integrated packaging technology protects the LEDs from colliding and also increases moisture-proof ability, expanding its durability. Of course, UMini has 180° wide viewing angle and saves power by 40% compared to SMD.
How can HDR function be implemented?
HDR refers to display technology of high dynamic range (High-Dynamic Range). The technology will provide customers the most intuitive picture quality improvement, which the general audience can distinguish. The light and shade levels of the screen as well as the color brilliance are greatly improved.
In order to realise the HDR function, Unilumin's Mini LED products have made the following technical improvements:
First, high contrast design of 20000:1 and brightness improve up to 2000nit can effectively improve the light and dark levels of the screen display.
Second, improving the color gamut range to the colour expression stronger and more realistic.
Third, hardware support by increasing the HDR display function in the control system module; and algorithm optimisation through the description of the software algorithm, use the human sensory quantitative curve for brightness adjustment, which perfectly reproduce the real world
The HDR function is implemented through the above three aspects.
Why does UMini LED product have high protection performance?
UMini LED adopts the integrated packaging technology independently developed by Unilumin to improve the protection performance from three aspects. Firstly, UMini LED adopts a new packaging material, which has excellent features of waterproof, high hardness and low stress; Secondly, its structure is optimized by improving the design of the protective structure, so that LED light source can stay in comprehensive encapsulation protection, which effectively isolates external water vapor erosion and impact damage. Thirdly, its manufacturing process is optimized by eliminating high-temperature reflow after the light source surface is packaged, which ensures the minimum damage of the internal structure after packaging, thereby improving the reliability. Through the above three aspects, UMini LED products not only achieve high reliability and protection ability, but also can be directly wiped and touched.
What do you think UMini will bring to the market?
The market behind UMini technology is huge. The technology behind it can broaden the application field of existing LED display products, bring more market opportunities and create greater market value for integrators and distributors. The excellent display effect brings a better user experience to the end users and UMini is robust enough to perform under different kinds of environment. At the same time, Unilumin can provide the market with great production capacity and excellent services. With all of these advantages, UMini is definitely going to unlock more possibilities for the LED industry.
What markets does UMini LED apply to?
From the aspect of pixel pitch and resolution, the products are mainly positioned as 2K, 4K and 8K applications in the future;
As for the industries, UMini LED can apply to industrial design (like automotive design and exhibition), high-end commercial display, high-definition studio, educational and medical screen, home theater, high-end retail etc.
Can you introduce UMini's creative concept?
UMini 0.9mm display product applies the latest mini-led display integrated packaging technology. Through the adoption of mini-led chip (chip size less than 100 ° m) and integrated packaging technology, the P0.9 display product is created, realizing 4K high-resolution LED within 162 inches. The birth of this technology opened the LED display indoor 4K, 8K HD display application era. UMini can provide people with a more perfect display screen in a variety of application scenarios with high contrast, high brightness, high reliability, high comfort, easy to use and energy-saving environmental.
How does UMini achieve high contrast ratio?
UMini's screen contrast ratio is 3 times higher than that of conventional SMD products. The maximum brightness is 30% higher than conventional SMD; and 120% of colour gamut coverage can fully meet DCI-P3 standard. The light path control technology is adopted to achieve the contrast effect of 20000:1, so as to solve the high quality requirements of customers for the screen, and improve the sense of science and technology and visual impact.
How does UMini achieve dynamic energy savings?
High efficiency heat dissipation design, full flip chip low thermal resistance, dynamic energy saving technology can save 40% power and reduction 25% screen temperature. With efficient thermal management, flip chip technology reduces thermal resistance of the chip and make a longer service life. Intelligent dynamic light control technology can adjust the display brightness of the regional screen, saving more than 40% energy than ordinary screen.