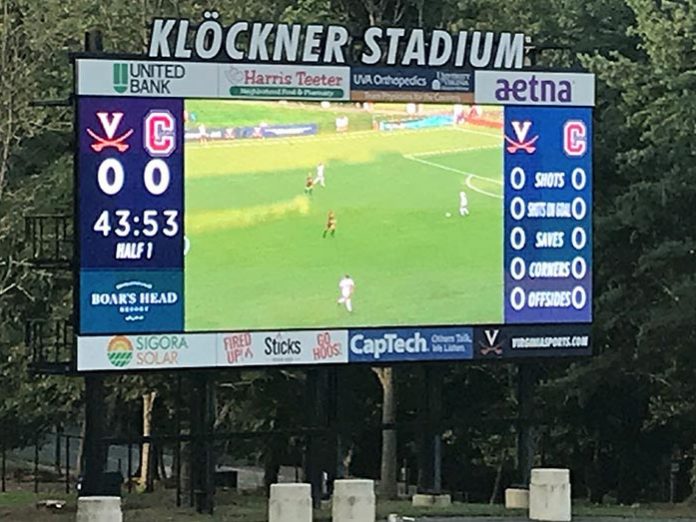 Daktronics of Brookings, South Dakota, has announced the installation of new LED displays at the University of Virginia's (UVA) Klockner Stadium and Disharoon Park in Charlottesville, Virginia. A new main video display for soccer and lacrosse as well as a new ribbon display for baseball will entertain and inform Cavaliers fans in 2018.
"We're excited to partner with Daktronics on the installation of the new displays in these venues," said Todd Goodale, UVA senior associate athletics director for external affairs. "The sports programs that call Klockner Stadium and Disharoon Park home have combined to win 16 NCAA championships and I'm thankful Daktronics could help us improve the experience for our baseball, soccer and lacrosse fans."
At Klockner Stadium, a new main LED video display measuring 17 feet high by 48 feet wide was installed this summer. It features a 15HD pixel layout for exceptional image clarity and contrast while also featuring industry-leading environmental protection for outdoor operation.
At Davenport Baseball Field, the new LED ribbon display measures 3.5 feet high by 56.5 feet long to bring additional game-day elements to every event. This display features the same 15HD pixel layout as the display at Klockner Stadium. It will be used to bring closed captioning to Cavalier baseball fans while also providing the opportunity to highlight sponsors throughout events.
"Klockner Stadium and Davenport Field at Disharoon Park are among the most exciting venues in the United States and Daktronics is proud to team with UVA and to provide them with these state-of-the-art displays," said Fran Kulas, Daktronics sales representative. "Attendance for the successful sports who play at these facilities – men's and women's soccer, men's and women's lacrosse, and baseball – is annually among the best in the country for their sports. Now, with the addition of these new displays, the waves of fans who come to support the 'Hoos, will be able to experience the contests in enhanced and interactive ways."
The video display for soccer and lacrosse is capable of variable content zoning allowing it to show one large image or to be divided into multiple zones to show any combination of live video, instant replay, statistics and other game information, graphics and animations, and sponsorship messages.
www.daktronics.com