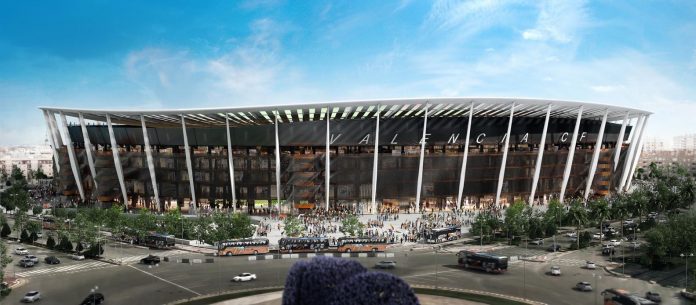 After over eight years of waiting, Valencia CF have announced that the construction of the Nou Mestalla will be restarting, meaning that the new stadium will be ready in May 2021.
The construction of the Nou Mestalla was orginally launched in 2006, though plans were abandoned in March 2009, with only the primary concrete structure in place. After mixed signals about the future of the stadium over the years, it has now been confirmed that the club are going ahead with plans in a statement.
"The club will start the proceedings with the town hall to get the permissions required for a renewed project aimed at the optimal fans'experience. Valencia CF are going to start the issuing process with Valencia town hall aiming to comply with the terms set by the Strategic Territorial Action (STA) in order to finalise the new stadium works."
The Nou Mestalla will have a new, amended design that is significantly different from the original plans, allowing the stadium to comply with all current regulations.
The deadline for the completion of the construction is May 2021. So, if all goes to plan, Valencia should start the 2021/22 La Liga campaign in their new home.
This, of course, means that the club's legendary Estadio Mestalla will be no more, with the stadium set to be demolished in 2023.