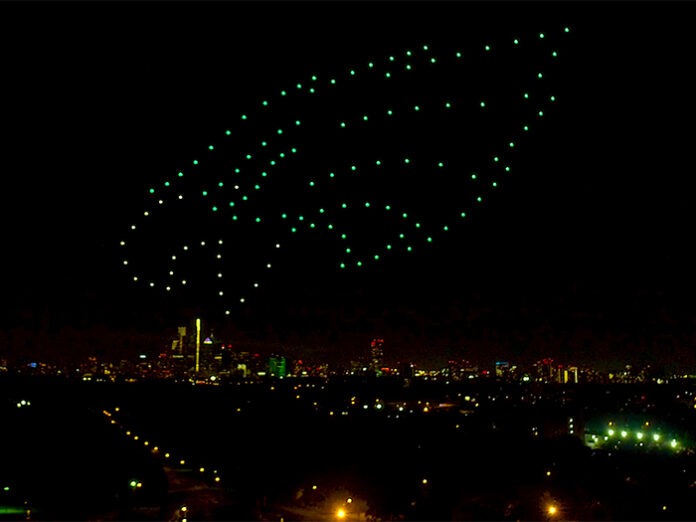 Verge Aero, the leader in high-performance drone shows, recently took to the skies together with partner Strictly FX for a celebratory light show marking the launch of the 2020 NFL season for the Philadelphia Eagles. The company, which is based in Philadelphia, deployed a fleet of 200 drones to deliver the large-scale aerial performance, which played out above Philadelphia's Mann Center for the Performing Arts.
As Eagles fans across the city looked on, Verge Aero's sophisticated, GPS-guided drones delivered dynamic images, logos, animations and messages of support across Philadelphia's night sky. Imagery included the iconic screaming eagle's head of the team's logo, animated football players, and messages including the Eagles' 'Let's Fly' slogan and fans' familiar refrain, 'Go Birds'.
The Verge Aero team collaborated closely with the Eagles to develop new graphic concepts while optimizing their brand identity and messaging for aerial display. The stunning show content was carefully programmed by Verge Aero's design team prior to launch, using the company's proprietary software.
The drones took off and touched down again at a safe zone adjacent to the Mann Center. Thanks to its class-leading drone technology, which has been specially developed to ensure simple deployment, accurate positioning and fully reliable operation, the company was able to complete the whole performance with a minimal crew, following strict COVID-19 safety guidelines at all stages.
The show, which was filmed for the Eagles' website and shared widely on social media, also drew enthusiastic responses from thousands of Eagles fans on the team's digital channels, with many fans calling for it to become a regular feature of Eagles' night games.
Speaking on behalf of the Philadelphia Eagles, Jessica Cashin, Senior Advertising Coordinator, said, "The team was amazing. Thanks again to your team for turning our vision into something so special to kick off the season."
"This was a fun show to do," said Nils Thorjussen, CEO of Verge Aero. "It really highlights that there are countless applications for drone shows. The reactions from Eagles fans in the city on the night, and on social media in the days following, was incredible. We enjoyed flying with the Eagles and we wish them the best for the season ahead. Go Eagles!"