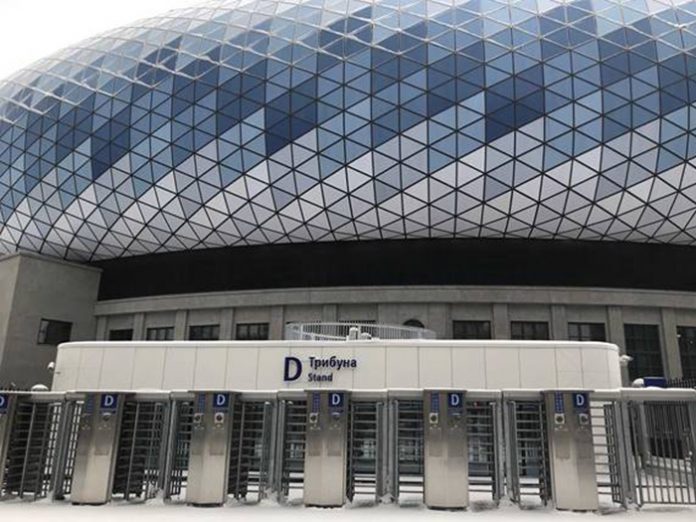 The best of different worlds: Bosch helps Moscow create a new urban living experience.
It is one of Moscow's most ambitious building projects: the VTB Arena Park was built on the site of the old Dynamo Stadium and revitalizes the entire surrounding area with a multi-purpose concept. At an estimated cost of US$ 1.5 billion, the modern VTB Arena Park combines sports, entertainment, commercial and residential facilities. A first challenge arises from the sheer size of the project: The football stadium, known as Dynamo Central Stadium and home to FC Dynamo Moscow football club, hosts league matches with a capacity of over 26,000 spectators. The park's indoor arena holds more than 12,000 guests during ice hockey matches, basketball games and rock concerts, while the 300,000 square-metre park area also offers retail facilities, a five-star hotel and 1,600-car parking garage.
Considering the wide range of very different purposes served by these various buildings, it was clear from the project's inception that a multitude of vendors and providers would be needed to cover all security needs. From the security manager's perspective, the main challenge was to ensure that these disparate systems would function together and allowed for central management of a wide array of functions such as access control for tens of thousands of football fans entering the stadium on match days, monitoring the vast perimeter with its park zones, and protecting residential areas against intrusion.
VTB Arena Park was looking for a partner able to tackle that key challenge – integration of all parts into one platform – and chose Bosch as its provider of end-to-end video security and access control. Aside from the project's complex technical ramifications, there was a particular system design challenge: Residents of the Arena Park should feel at home enjoying the highest quality of living, while the area also needs to accommodate for the influx of thousands of visitors within short periods. As the Bosch experts learned, the multi-purpose character of VTB Park leads to an equally wide range of different security needs among its users.
Catering to the video security needs, Bosch installed a total of more than 2,000 video cameras, fixed as well as moving cameras, both indoors and outdoors, to safeguard the vast perimeter of the Arena Park premises and secure the homes and offices. One of the camera types installed for perimeter protection is the AUTODOME IP starlight 7000 HD. This high-definition camera offers excellent low-light performance thanks to starlight technology and also features built-in Intelligent Video Analytics. The video analytics function automatically detects deviations from standard moving patterns, like a person entering a restricted area, and triggers an alarm that is sent to the control rooms where security staff can then zoom into a scene for closer investigation. As required by VTB Arena, all 2,000 cameras and connected video storage on Bosch recording units are managed centrally via the Bosch Video Management System (BVMS).
Another particular challenge consisted of aligning the three different access control systems of the stadium running at the same time. The ticketing system is the first layer of access control, managing the turnstiles that permit entry of thousands of visitors during events with paper tickets. This access control system needed to integrate with the employee access control system that relies on proximity cards (the Access Engine provided by Bosch), as well as a third, offline access control system used at specific stadium facilities. As the Bosch experts in Moscow found out, such integration was without historical precedent. Because no standard solution existed, the team devised a highly customized set-up managed centrally on the Building Integration System (BIS) from Bosch.
"We were fully aware that the multifunctional character of the VTB Arena Park would lead to a complexity that could hardly be topped. We needed integration power, a partner who knew how to bind all loose ends into one solution that had never existed before. Creating this one integrated security system catering to all the various purposes has made Bosch our main security partner," said Alexander Kravchenkov, Deputy Head of Security Systems Maintenance Group IT Department at VTB Arena.