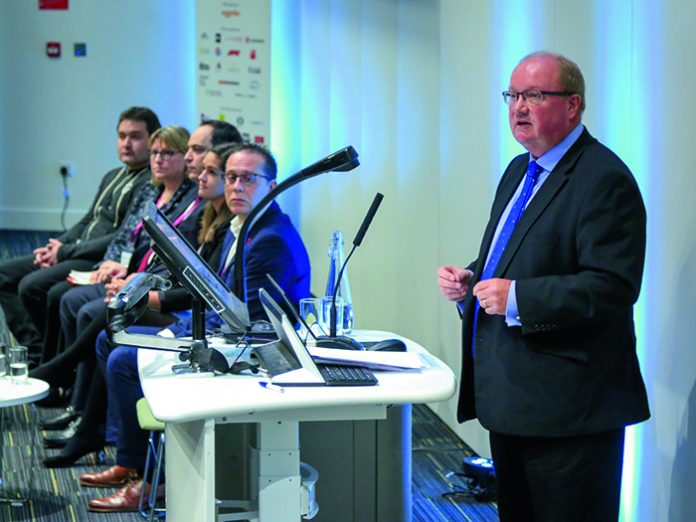 VIP speakers will kick off the opening talks at Host City 2019 in Glasgow on 26-27 November with conversations that explore new paradigms of how rights holders, cities and brands are working together to create exciting events, and which areas of the major events sector are ripe for disruption through creative new partnerships.
Co-creation is also a big discussion point as a way of taking all stakeholders in major events with you. These eminent speakers will share invaluable insights into creative leadership and how to promote a culture of innovation and collaboration while staying ahead of the competition.
The opening conversations will be led by conference Chair: Paul Bush OBE, Director of Events, VisitScotland
joined by: Sarah Lewis OBE, Secretary General of the International Ski Federation (FIS) and the Association of Winter Olympic International Federations (AIOWF), Ian Reid, CEO, Birmingham 2022 Commonwealth Games Organising Committee, Markus Stenger, Managing Director, DFB EURO 2024, Antonio Arimany, Secretary General, International Triathlon Union.
Paul Bush said: "I'm delighted to be chairing such an esteemed panel of speakers for the opening conversation of this year Host City conference. We operate in a dynamic and ever-changing world and as an industry we need to be agile, smart and brave to deliver meaningful major events for all. By putting collaboration and co-creation at the heart of the event delivery model, we can ensure that real transformational change, both socially and economically is delivered for everyone."
Sarah Lewis said: "FIS and the International Winter Sports Federations are constantly endeavouring to innovate and evolve our event properties. Partnerships with other stakeholders is a key component of our event strategy. I look forward to exploring these themes from the different perspectives of cities, sports and business at Host City, which is always a valuable opportunity for the different organisation and entities involved with events to learn and exchange amongst each other."
Ian Reid said: "I'm really pleased to be invited to be part of Host City 2019 and I'm looking forward to talking to attendees about the Birmingham 2022 Commonwealth Games, an event which is being organised by a group of partners, who have all come together to jointly create what will be the biggest sports and culture event ever to be staged in Birmingham and the West Midlands region."
Markus Stenger commented: "With the UEFA EURO 2024 we want to organize a EURO for everyone. We want everyone to get involved and participate for the good of the community."
Antonio Arimany said: "I'm very happy to be able to attend and honoured to have been asked to speak at the event. We have seen time and time again that working closely with cities brings enormous mutual benefits and that is the message that I hope will be underpinning the conference."
Host City is delivered with support from EventScotland, its primary Supporting Partner