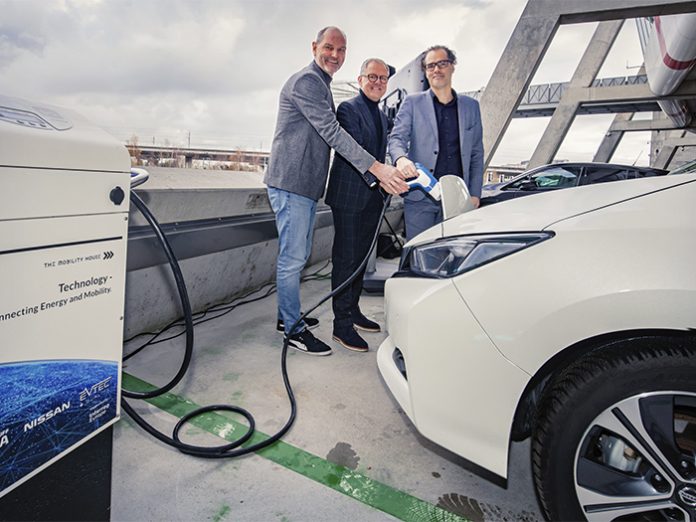 Visitors' electric cars can start supplying energy to the Johan Cruijff ArenA. The first bidirectional charging station making this possible was connected by Laurens Ivens, alderman of Amsterdam City Council, today. Dozens of similar charging stations are to be installed in the car park under the stadium in future. The ArenA is looking into how it can reward visitors for the 'borrowed' electricity.
Smart vehicle2grid technology connected up to the ArenA battery sees to it that the correct amount of energy is supplied from car to stadium, though only when this is required and with the consent of the vehicle's owner. The system ensures that the battery is charged on time so that visitors can return home safely. The energy derived from the cars serves as additional storage and backup for the ArenA, thus reducing the stadium's electricity bill and contributing to a more stable national grid.
"It's a great initiative which—in a fast-paced world of Smart Cities, electric vehicles, digital systems and algorithms—sees us now moving towards an innovative means of achieving sustainable, socially responsible mobility. Enabling visitors to give back clean energy to the stadium ensures they have a smart way of doing their bit towards the ecosystem. This is a fantastic milestone for public and private cooperation and one to be proud of," says Ger Baron, chief technology officer, Amsterdam City Council.
The initiative will start with 14 regular charging stations and one bidirectional charger in the ArenA dek car park. Subsidised by the European Union, this system will entail electric vehicles being used as an innovative source of energy for the stadium. The project dovetails with Amsterdam's future mobility plans, such as mobility hubs. Electric vehicles' batteries can play a significant role in efforts to render the energy transition in the Netherlands increasingly sustainable.
The project is the result of a collaboration between BAM, The Mobility House and the Johan Cruijff ArenA and is supported by 'SEEV4City', an initiative of Interreg North Sea Region, the Amsterdam Climate & Energy Fund and Nissan.