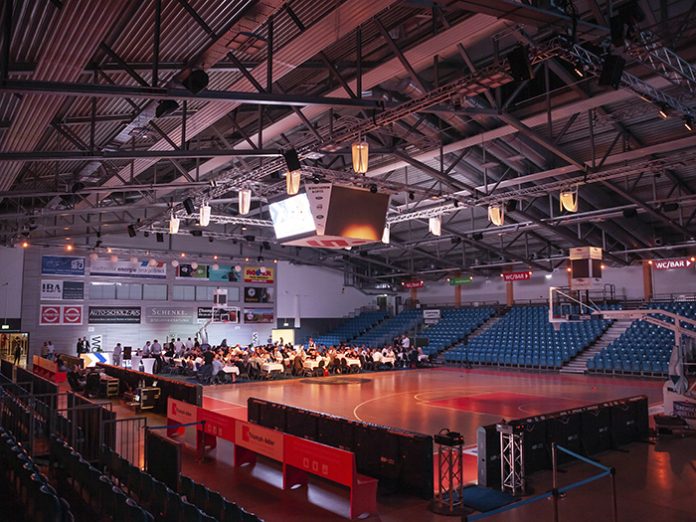 The Sparkassen-Arena Jena with 2300 sqm offers a capacity for up to 3000 guests.
The multifunctional hall is used for concerts, sports and corporate events.
The goal was to find a solution that would make it possible to uniformly sound the grandstands at sporting events and that would have a clear orientation to the stage at concerts.
The company CKV Ton- und Lichtanlagen from Thuringia developed a concept with loudspeakers of the German manufacturer Voice-Acoustic and was the winner of the contract for the project.
Altogether 12 Modular-15 with 90° by 60° horn (6 self-powered, 6 bi-amping slave) and 2 Paveosub-218sp were installed. The Modular-15sp have a very high internal amplifier power of 3200W and can bi-amplify power another Modular-15.
At the 40m long side ranks four Modular-15 are mounted and at the 20m long front sides two Modular-15. The hall was split into several sound zones. All self-powered loudspeakers are networked and grouped via Ethernet cable with the Voice-Acoustic Remotecontrol software.
The software enables the operator to choose between concert sound and sports sound. Only the 40m side ranks, which are separated into 4 delay zones, are used for concert sound. The auditorium is then sounded with a line-array of the production touring company. In sports mode, all 4 side ranks are active. As low-end support two Paveosub-218sp are placed in the auditorium.
The height of the rig is 9m. CKV installed the speakers above the truss on pipes using the Voice-Acoustic Easfly mechanism. This does not obstruct the viewing axis of the 163-inch LED video cube.
The hall operators are very satisfied with the new technical possibilities and excellent speech and sound quality. Even at noisy events such as basketball matches with enthusiastic fan groups, the system has more than enough headroom and has already performed very well.