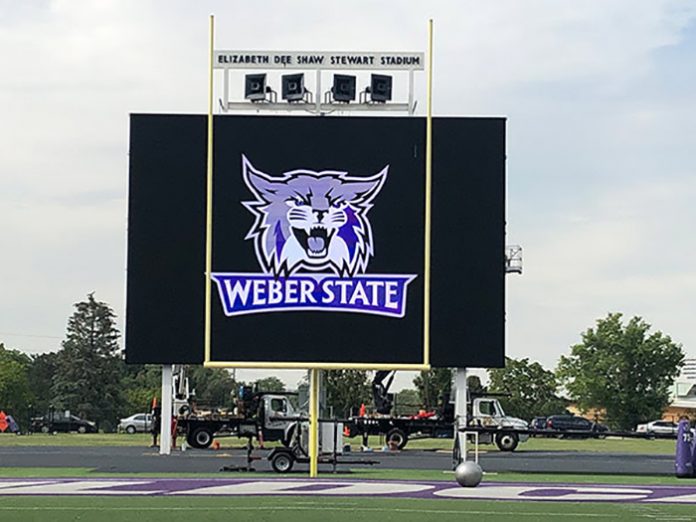 When Wildcats fans return to Ogden, Utah, this fall, they'll be welcomed by new LED video technology from Daktronics (NASDAQ-DAKT) of Brookings, South Dakota. Weber State University has partnered with the company to design, manufacture and install 22 LED displays for Stewart Stadium and Dee Events Centre in 2019.
"These new video boards, along with other enhancements, will make Stewart Stadium one of the most picturesque and premier venues for college football," said Weber State Director of Athletics Tim Crompton. "These upgrades will allow us to provide a first-class fan experience for games and will also impact our recruiting, campus events and community engagement."
Stewart Stadium will receive two new LED displays. The largest will sit in the end zone and measure 36 feet high by 54 feet wide. The second will sit in the corner of the opposite end zone and measure 17 feet high by 30 feet wide. Both displays will feature 10-millimeter line spacing to bring excellent image clarity and contrast with wide-angle visibility to fans in every seat.
"Daktronics has been a part of the Weber State University campus for decades and we are excited to continue our long-standing partnership," said Rusty Lenners, Daktronics sales representative. "These displays will help transform both Stewart Stadium and Dee Events Centre, and it will be fantastic to see an abundance of purple content on these screens for years to come."
Dee Events Centre will receive a total of 20 new LED displays including a 12-display centre-hung configuration and four courtside scorer's tables. The four main video displays in the centre-hung will each measure 10 feet high by 16.5 feet wide.
Four lower ribbon displays will each measure 3 feet high by 16.5 feet wide These eight displays will feature 5.9-millimetre line spacing for crisp, clear imagery. The four corner wedges of the centre-hung will each measure 9.5 feet high by 2.5 feet wide and will feature 6-millimetre line spacing.
Wall-mounted along the sides of the arena, four additional courtside video displays will each measure 3 feet high by 13 feet wide and feature 5.9-millimetre line spacing to show supplemental information and sponsorship elements.
Four courtside scorer's tables can be aligned in any configuration to show complementary content to the main displays as well as highlighting sponsors throughout events. Each will measure 2 feet high by 9 feet wide and feature 10-millimetre line spacing.
The main video displays at both venues are capable of variable content zoning. Each display can show one large image or the displays can be divided into multiple zones to show any combination of content including live video, instant replays, up-to-the-minute statistics, graphics and animations, and sponsorship messages.
Daktronics will also be including its powerful Show Control System at each facility. This industry-leading system provides a combination of display control software, world-class video processing, data integration and playback hardware that forms a user-friendly production solution.
In addition to the equipment installation, Weber State will also receive a content package that will be produced and delivered by Daktronics Creative Services.