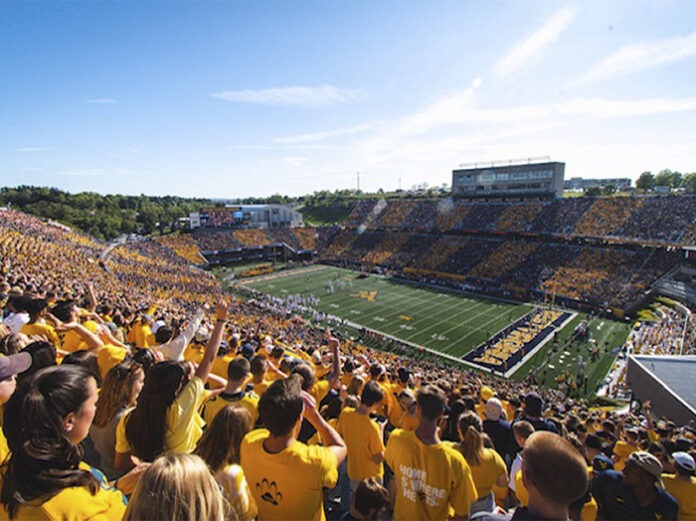 ChyronHego has upgraded West Virginia University (WVU) athletics facilities to the new Click Effects PRIME stadium and arena graphics system and, more recently, integrated the advanced solution with LED video boards newly installed across Milan Puskar Stadium, the WVU Coliseum, and Monongalia County Ballpark.
"WVU is a great partner of ours and has been using Click Effects for a long time," said Jennifer Paonessa, director of the Venues Solutions division at ChyronHego. "They have always been on the forefront of utilizing our technology to produce a creative and high-quality show year after year."
Click Effects PRIME is the next generation of ChyronHego's user-friendly Click Effects audiovisual content control and delivery solutions for live sports and entertainment productions. The system unites the advanced authoring, rendering, and data binding power of ChyronHego's renowned PRIME Graphics Platform with industry-leading arena graphics generation and custom digital display control. With a simple point and click, users can deliver the real-time graphics, video clips, audio tracks, animations, and sponsor ads that engage fans, strengthen the franchise brand, and boost sponsor revenues.
The Venues Solutions team from ChyronHego worked with colleagues at WVU to integrate Click Effects PRIME with existing video boards and subsequently to reconfigure the graphics solution to drive newer 4K boards. Together the teams optimized the graphics workflow to maximize both efficiency and creative options for design and graphics. As a result, WVU has been able to redefine and elevate the perception of sponsorship inventory and fan engagement.
"Over the past decade, we've watched the capabilities of Click Effects grow, and the solution itself has evolved into a very robust and very intuitive tool for state-of-the-art in-venue graphics production," said Matt Wells, WVU's senior associate athletic director of External Affairs. "We enjoy a great relationship with ChyronHego and know that we can count on responsive support any time, day or night. We also appreciate the company's experience in providing solutions to the collegiate sports market, as this knowledge has helped us make the most of Click Effects PRIME in delivering a great show."