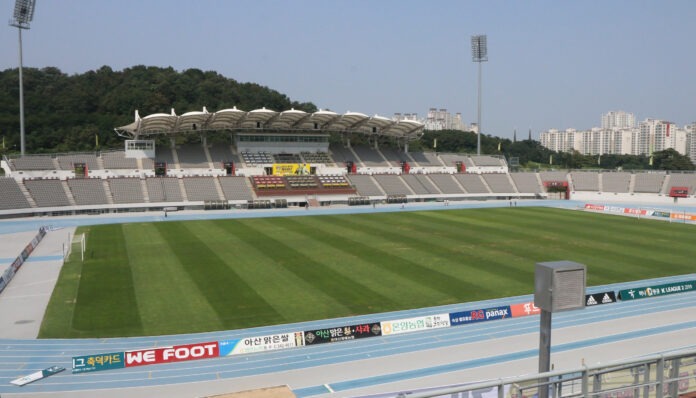 Home of Chungnam Asan Football Club, the 17,376-seat Yi Sun-sin Stadium in Asan, South Korea has enhanced the game-day experience for fans with a new level of audio intelligibility and coverage, thanks to a new sound system featuring Electro-Voice loudspeakers powered and processed by amplifiers from Dynacord. 
Dlogixs Co., Ltd. (Anyang-si, Kyounggi-do) completed the system design and installation, with manufacturer support from Hosung Lee of Electro-Voice/Dynacord. "As per customer requirements, the new system needed to combine power and precision with cost-effectiveness and energy efficiency," says Lee. "The goal was to minimize acoustic blind spots while ensuring sufficient SPL and headroom for speech and background music. The Electro-Voice and Dynacord solution provides perfect system-wide alignment between the main speakers and the delay speakers, in terms of both timing and tone."
The main covered grandstand on the home side of the stadium is the only suitable structure from which to fly loudspeaker clusters; the away-side seating areas directly across the pitch are uncovered. The challenge was to achieve consistent coverage and SPL for both the home and away fans, using a combination of main loudspeakers in the grandstand and delays to cover the away seats. As line-arrays were not a cost-effective option, point-source models with excellent pattern control were selected as a solution. 
Weatherized EVH horn-loaded loudspeakers in four vertical clusters of two serve as the mains: longer-throw 90°H x 40°V over wider-coverage 90°H x 60°V. Ideal for sports venues, the EVH's rotatable waveguide design (multiple patterns are available) ensures pattern control is maintained down to 500 Hz. The EVH models are supported by eight weatherized Sx300PI two-way loudspeakers as side fills for the areas right below the main clusters. Across the pitch, 16 ZX1i compact two-way loudspeakers are distributed to cover the away-side seating areas, with tonal characteristics and delay time carefully aligned to match the main system. Each is pole-mounted inside a weatherproof enclosure and equipped with a TC-ZX1i terminal cover. Two EVID 6.2 compact two-way loudspeakers complete the Electro-Voice equipment list, wall-mounted as monitors in the control room. The entire system is powered and processed via a combination of Dante-equipped IPX and L series amplifiers from Dynacord, with optimizing presets for the Electro-Voice loudspeakers. 
"The fans are the ultimate judges of a successful sound system installation," continues Lee, "and the response has been very positive. The speech intelligibility is excellent and the SPL is balanced across all areas. Electro-Voice and Dynacord have a proven track record in stadium installations, and this adds to that list. In particular, the EVH models are exceptionally competitive in terms of price and performance. Combined with the Sx300PI models and ZX1i delays, this install demonstrates how impressive results can be achieved while aligning with a limited project budget."