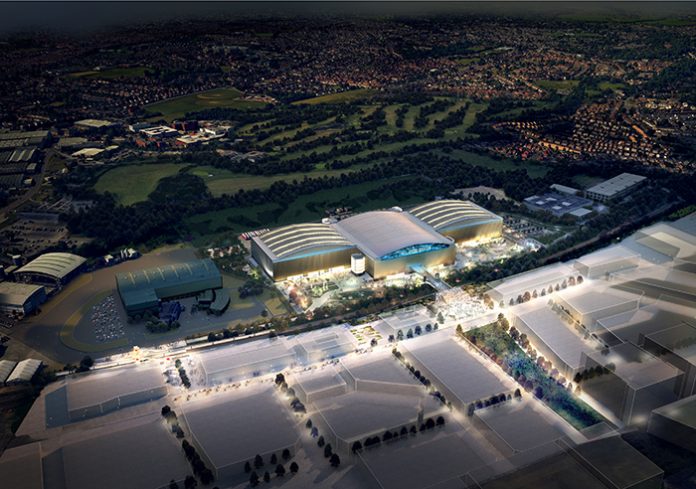 YTL Arena Bristol will provide the ultimate live experience for fans of music, comedy and sport. We are working with industry-leading acoustic consultants Vanguardia, who have contributed to some of the most iconic venues and tours, including The O2, Wembley Stadium, The Rolling Stones, Bruce Springsteen and more.
Olly Creedy, Director at Vanguardia, has been with the company for nearly 15 years, and now leads a team of specialist consultants in acoustics and sound system design. During those years, he has worked on many prestigious projects, including Tottenham Hotspur Stadium, Co-op Live Arena and YTL Arena Bristol.
To measure the acoustic quality of a venue, Olly explains how Vanguardia examine the balance between atmosphere, clarity and tonal balance of the sound.
"It's important that we can ensure suitable reverberation times right down to the sub frequencies to provide a clean sound for amplified music whilst maintaining the tonal balance of the higher frequencies", Olly said.
"We must ensure that any flat surfaces are reviewed to avoid any unwanted late reflections of sound that can be heard as discrete 'slap back' and sometimes acoustic treatment alone is not sufficient, and we require to angle surfaces to re-direct or diffuse the sound."
YTL Arena Bristol will have areas of angled glazing, ensuring that the reflected sound is directed away from the audience areas, and large areas of bass-traps designed into the roof and trusses to provide low-frequency absorption.
The Arena will host a variety of live events, from music, comedy, sport and more, and the acoustic performance is optimised for each operation mode.
"We assess the acoustic design against speech as well as music to ensure the intelligibility and clarity of comedy events and sports commentary", Olly said.
"Where some early reflections are beneficial, then we ensure the acoustic treatment doesn't absorb everything and provides some reflectivity to provide atmosphere and envelopment to the rearmost seats."
Detailed acoustic modelling is carried out to review the sound reflections and reverberation time in the arena bowl.
"This includes optimising the placement of loudspeakers to ensure they complement the acoustics and architecture of the space", Olly said. "Binaural auralisations are calculated and used to provide a subjective response and allow us to 'sit' and listen in the virtual space before the building even leaves the ground."
Any risk of noise travelling outside of the venue has been reduced, with an envelope design of two separate roofs providing low-frequency absorption.
"By having two acoustically isolated roof structures and large cavities between, the weight of the roof can be substantially lighter than other comparable arenas and provide the same overall acoustic performance", Olly said.
"All other routes of noise are looked at from the venue to ensure that suitable internal noise levels can be achieved for Rock/Pop shows and not provide a disturbance to the surrounding environment."
As the world's first aircraft hangar to be repurposed into an arena, the history of the site is a key consideration in the design.
"It's exciting to see a venue with such a historical background and turn it into a high-quality entertainment space," Olly said.
"The architects are working hard to ensure the character of the building can be maintained, whilst integrating the required technology for a cutting-edge modern building.  I'm most excited about stepping into the completed venue and hearing it for the first time, which is always rewarding after working on long-term projects and being proud of the work of the teams involved."