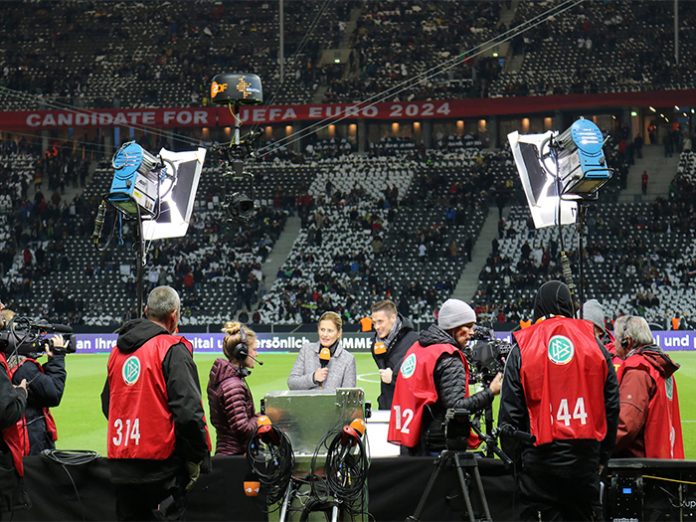 During the friendly between Germany and Brazil, which took place on March 27 2018 at Berlin Olympic Stadium, the German public broadcaster ZDF has used the Robycam cable camera system along with a Broadcast Solutions production team.
Together with augmented reality elements, implemented by the graphics service provider netventure production, new graphic elements could be inserted during the camera's movement in the stadium. Using these innovative tools, ZDF was able to offer its viewers additional content and information, even while moving the cable camera system in the stadium.
Robycam is a cable camera system that enables gyro stabilised 3D camera movements. Together with a powerful controller, the system allows movements in all three axes: Pan, Tilt, Roll. All three axes are stabilized. There is also an auto-horizon feature that makes the image absolutely stable in wind or swings. Unlike other systems on the market, Robycam has a fifth winch that carries the fibre-optic cable in master-slave mode. As a result, using the Polyspast mode the system is more variable in height.
The Robycam system uses four automatic winches, controlled in real time, and a sophisticated motion control system that allows millimetre-accurate and fast camera shots with up to 8 metres in all axes. The largest system has an operating range of up to 250 metres x 250 metres and more. Robycam is fully redundant and has all necessary certifications of DGUV17 / 18 to be used above people.
The next productions you can see the system live is the Champions League semi-final Bayern Munich vs Real Madrid in Munich, on the 25th of April. An additional and special use-case is planned for the event SportsInnovation 2018 (8 – 9 May) in Düsseldorf.